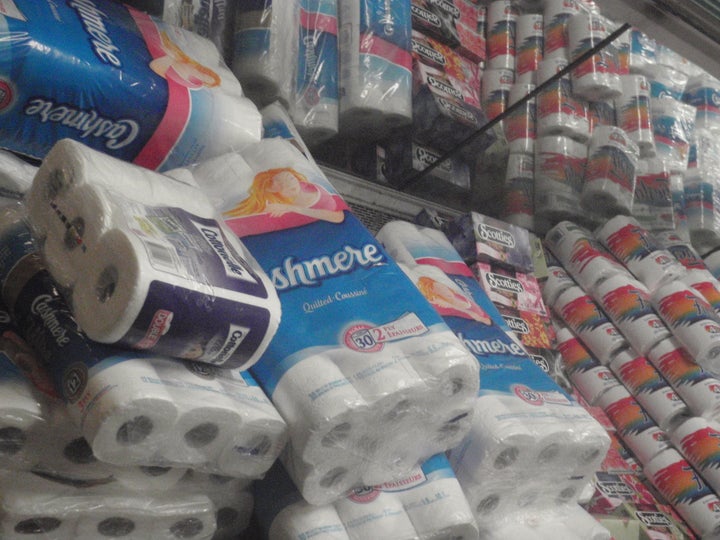 Would you and your roommates stop the passive-aggressive toilet paper wars if you could order more with the click of a button?
Amazon.com hopes so. The e-commerce giant and its subsidiary Quidsi are in the process of launching a series of websites that deliver household products to a customer's door, from pet food (Wag.com) to baby products (Diapers.com) to detergent (Soap.com). On Thursday, Quidsi launched its seventh site, Vine.com, which sells "green" products like eco-friendly Seventh Generation tampons and Annie's BBQ Sauce.
Quidsi currently has the ability to deliver packages ordered on its sites overnight -- and in some cases, in the same day -- to 77 percent of the country, according to Vinnie Bharara, who co-founded Quidsi along with Marc Lore. "Lots of people aren't aware they can buy [household] staples online," he said. "They should be. These aren't products you need to see or touch. There's not much joy in going to the store to buy paper or diapers."
Though the sites are still new, they are making many traditional purveyors of pet supplies, soap and green products shiver, according to Matt Nemer, an analyst at Wells Fargo. Amazon.com, which acquired Quidsi in 2010, has already sucked business away from physical retailers of books and electronics so effectively that chains like Borders have wound up in bankruptcy. Best Buy is currently struggling to avoid the same fate.
So far, household staples like food, shampoo and detergent have been some of the slowest categories to move online. In a survey of 64,000 people earlier this year, Forrester Research found that only 4 percent of respondents bought baby products online in the past three months and only seven percent bought groceries online. By comparison, 38 percent of those surveyed had purchased books online and 35 percent had purchased clothing.
Why aren't more people trying to buy diapers online and avoid what must be one of the least sexy shopping trips? "There is a habit mindset when shopping for consumables," said Candace Corlett, president of WSL Strategic Retail, a consultancy and research firm. "When you're buying a household cleanser, it doesn't require much concentration or shopping." Deeply ingrained habits are harder for companies to change, said Corlett.
Quidsi's founders said they expect news of their company to reach people mostly by word-of-mouth. "We're not going to do a lot of expensive marketing," said Bharara, noting that Diapers.com, prior to its acquisition by Amazon.com, went from having $2 million in annual sales in its first year to $90 million in its third year.
One way to go about changing shopping habits is to target a susceptible client: new moms. Major life events like marriages, births and deaths are the best points in time to lure shoppers into testing new brands and products, a fact marketers have long exploited. All of Quidsi's sites cater to the "busy mom," according to Lore and Bharara. The company plans to launch a new site for children's activity supplies, Afterschool.com, this fall.
Though the concept of selling household staples online is relatively new, Quidsi is not the only player: sites like BuyBuy Baby, Drugstore.com and even Walmart's web store offer similar products. FreshDirect has succeeded at stealing shoppers from supermarkets in New York City and is currently expanding to other urban areas.
So far, Quidsi's sites have remained by all appearances separate from their corporate owner -- there is no mention of Amazon.com, the internet's biggest mall, on the colorful sites like Vine.com or Casa.com, each carefully branded to appeal to a niche audience. Management teams are separate -- Amazon.com is based in Seattle and Quidsi in Jersey City, N.J. -- and the companies use different distribution networks to ship products to consumers, according to Quidsi's founders.
But if buying toilet paper online does end up becoming as popular as buying books or electronics, Amazon.com, already the undisputed titan of e-commerce, is set up to conquer a whole sector through its full ownership of Quidsi, for which it paid $545 million in 2010.
"It's really a matter of debate how integrated these companies are," said Nemer, the Wells Fargo analyst. Nemer noted that public perception of Quidsi sites as separate from Amazon.com likely helps both companies. "Amazon is perceived to be a discounter and a brand diluter," he said. "So if you can set up a separate site with a different name and a different brand experience, maybe brands will be more willing to sell to you."
Amazon.com also doesn't have the "green" credibility that Quidsi's new site, Vine.com, is trying to establish. While Amazon.com bills itself as a more eco-friendly retailer than its brick and mortar competitors -- mostly because it doesn't consume as many resources in maintaining physical stores -- its data centers are currently under fire for wasting massive amounts of energy.
REAL LIFE. REAL NEWS. REAL VOICES.
Help us tell more of the stories that matter from voices that too often remain unheard.
BEFORE YOU GO
PHOTO GALLERY
CEOs Who Look Like Villains