With Amazon's unveiling of their new Kindle Fire tablet, much has been written about Amazon leaping into the fray to possibly challenge the iPad's dominance of the tablet market. Estimates show that Apple has sold over 28 million iPads, and sold 80% of all tablets in North America during the last quarter with any real competition. But what was perhaps lost in the hoopla surrounding the launch of the Kindle Fire was the souping-up of Amazon's Kindle line, whose effect on the book industry could far outweigh the Fire's impact on the tablet market. At Wednesday's event, Amazon introduced three new e-readers:
--Kindle (starting at $79)
--Kindle Touch ($99)
--Kindle Touch 3G ($149)
It's not news anymore that Amazon is currently selling more e-books than print books, yet when you see the staggeringly fast growth of e-books, what Amazon has done with this Kindle line update is likely convert even more people over to e-readers, taking away the last of the few roadblocks left for those who have not yet purchased a standalone e-reader.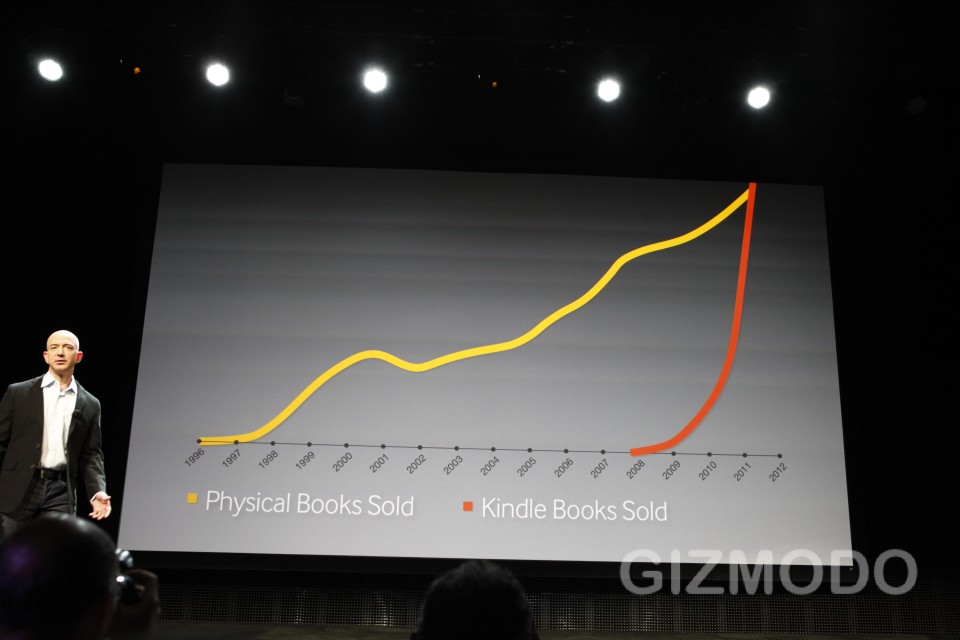 There will always be a consumer base reluctant to buy new products or adapt to new technologies due to budget constraints. Yet the price of e-readers has dropped like a rock ever since the first Kindle was introduced in 2007 at the now-unthinkable price of $399. To put that in perspective, the new low-end Kindle, which other than being WiFi only is a far superior device to that first model, is now 80% cheaper just four years later.
As Brad Stone said in a Bloomberg article: "The stripped-down Fire is more of a sit-back-on-the-sofa- and-shop device. It crystallizes the difference between Apple, which tends to keep prices -- and profit margins -- high, and Amazon, which likes to start low and drive lower in an effort to knee-cap the competition." This statement is perhaps even more applicable to Amazon's standard Kindle line.
With this new price drop, Amazon is simply eliminating the consumers who have not yet made the leap into the e-reader market due to price concerns. At $79, the new Kindle is approximately the price of 3-4 hardcovers, and given that the majority of new e-books sell for between $9.99-$12.99 (not to mention the abundance of titles priced at $2.99 and under), for a dedicated reader it's a very small window of time before the Kindle pays for itself.
It's rumored that Barnes & Noble will be releasing a newer model of their Nook Color (currently $249, $50 more than the new Fire) for the holiday season, and will have to well-undercut the Kindle Fire's $199 price tag to compete. However, Amazon has been known to price their devices lower and slash their profit margin in order to undercut competition, and the fact that their pockets are far deeper than Barnes & Noble's means B&N has their work cut out for them. The new Kindle Touch 3G is priced at $149, the same price as the new Nook Simple Touch--which does not have 3G capability. And you could conceivably buy both a Kindle Fire and a Kindle Touch for $100 less than the lowest-end iPad.
In the end, whether the Kindle Fire will compete with the Apple iPad remains to be seen. But Amazon lowering and improving its line of e-readers mean that late, cost-conscious adapters of the e-book revolution will now join the party, more readers either cutting back on or eschewing print altogether. I wouldn't be surprised if Amazon literally gives the Kindle away for free within 2-3 years simply for the money it will make in e-book sales. Millions of people have switched to reading e-books. And Amazon is taking away excuses for those who have not.
Related
Popular in the Community