Amazon came under fire this week from Love146, a group that campaigns against child trafficking and exploitation, for selling what appeared to be a self-published e-book encouraging pedophilia overseas, "Age of Consent: A Sex Tourists Guide!" by Peter F. Friedmann.
Though the book has now been removed, questions remain about Amazon's lack of monitoring of content published on its e-book platform.
The description of "Age of Consent" stated that
"In some countries it is even illegal to have sex outside of marriage, with severe consequences if you are caught doing so! On the flipside, there are many countries on this planet where the age of consent is as low as 12 or 13... This $3.49 will keep you out of jail, possibly the most important few dollars that any red blooded testosterone pumped traveller will spend."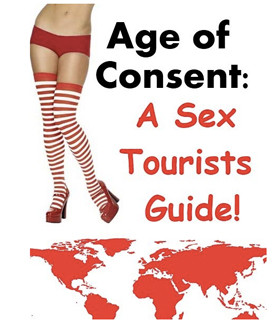 The book's listing was removed by Amazon on Thursday evening. According to Amazon's website, it had been on sale since October 2011, and had received 15 one-star reviews, all of which complained about its subject matter. The book was also available for free in the Kindle Lending Library, which according to the terms and conditions of Amazon's Kindle publishing platform, one of the largest self-publishing platforms in the world, meant that it was exclusively available on the Kindle.
Love146, an organization based in New Haven, CT, had asked its followers to send letters and emails, and to telephone Amazon, requesting that they withdraw the book.
Before its removal, Jo Coles, Collective Shout Officer at Love146, told The Huffington Post via email that "We have protested Amazon before and they have responded well and removed 'The Pedophiles Guide to Love and Pleasure.' This is one of the reasons why we are not asking people to boycott Amazon."
That book was withdrawn from sale in 2010, following public and media pressure. However, Amazon initially defended the book's availability, saying "Amazon believes it is censorship not to sell certain books simply because we or others believe their message is objectionable. Amazon does not support or promote hatred or criminal acts, however, we do support the right of every individual to make their own purchasing decisions."
The current publishing policies of the Kindle store state that, beyond pornography, non-exclusive or illegal content, books cannot contain offensive content, which they define without much clarity as "What we deem offensive is probably about what you would expect." Although the e-book "Age of Consent" contained no graphic language, its description certainly seemed offensive to at least some supporters of Love146.
However, while the meaning of "offensive" remains open to broad interpretation, this book could regardless have been removed for other reasons.
For instance, Amazon states that "We don't accept books that provide a poor customer experience." The content of "Age of Consent" was little more than a series of lists, initially arranged by continent, of the ages of consent for countries around the world. The final two lists in the book were "The Lowest 35 In The World" and "No sex allowed list." The e-book was a total of 18 pages long, and the information within could all be found on Wikipedia.
Also, the book's cover (above) seemed to violate Amazon's copyright policy, which states that they "will not accept content that is freely available on the web unless you are the copyright owner of that content." The cover included an image of a pair of legs that was an exact match for that used by a series of online costume stores to advertise a pair of stockings.
The book's author, Peter F. Friedmann, could not be tracked down. He is still listed as the author of three other sex-related e-books, all relatively short.
Love146's Jo Coles says that the group's main issue was with Amazon's open acceptance policy for self-published e-books. "Self-publishing platforms need to be more vigilant," she wrote to us. "Screening processes should be in place so that children are not put at risk. We want to encourage Amazon to consider ways it could be protecting children going forward."
Beyond confirming at 8.35pm EST that "Age of Consent" had been removed from sale, Amazon did not respond to a request for comment.
Clarification: This piece was originally filed before the book was removed from sale. It has been modified to take that into account.
REAL LIFE. REAL NEWS. REAL VOICES.
Help us tell more of the stories that matter from voices that too often remain unheard.
BEFORE YOU GO