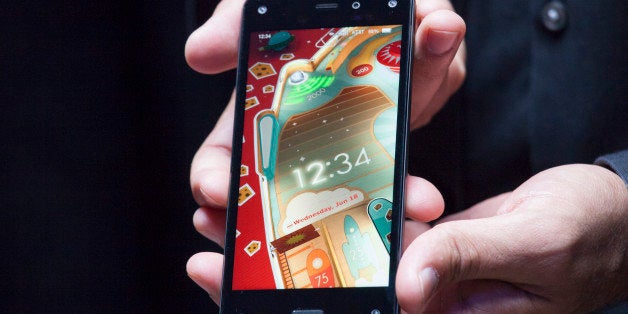 SEATTLE -- Amazon's new smartphone features some cool new technology, but probably the most surprising thing about the device is its high price.
Jeff Bezos, Amazon's founder and CEO, revealed the price of the Fire Phone at the end of a press conference here on Wednesday, sparking a wave of commentary on Twitter.
The phone, which will be exclusive to AT&T and be available next month, will start at $199 with a two-year contract for the 32-gigabyte model. It will cost $649.99 without a contract. For a limited time, customers can also get a year of Amazon Prime, the company's $99 loyalty program, thrown in.
If those numbers sound familiar, that's because they are. That's the standard two-year contract pricing for the base models of Apple's iPhone 5S and Samsung's Galaxy S5, the flagship phones from the two companies that absolutely dominate smartphone sales in the U.S.
Many analysts, pundits and reporters, including myself, thought that Amazon would employ a similar strategy it's used for other hardware: sell the device at cost, or close to cost, and make money when people buy eBooks, video games, movies, TV shows and coffee filters.
For example, you can buy a Kindle eReader for $69 on Amazon right now.
Jeff Bezos laid out this business model in his annual letter to shareholders last year: "Our business approach is to sell premium hardware at roughly breakeven prices," Bezos wrote in April 2013. "We want to make money when people use our devices – not when people buy our devices … We can be very happy to see people still using four-year-old Kindles!
That's why the Fire Phone's price is such a surprise. It would seem that Amazon is actually trying to make money when people buy the devices.
That left analysts like A16Z's Benedict Evans scratching their heads.
Breaking into the smartphone market is going to be very difficult for Amazon. According to IDC, the technology research firm, Apple accounted for 37.4 percent of smartphones shipped last quarter, while Samsung accounted for 28.8 percent. LG and Motorola, companies that make really awesome Android smartphones, are at distant third and fourth, with 10.6 percent and 6.5 percent, respectively.
The Fire Phone is starting from scratch -- this is Amazon's first phone -- with an operating system that's unfamiliar to most people. But it's the same price as the iPhone 5S or Samsung Galaxy S5. It's going to be tough to convince consumers to buy an Amazon phone over those well-known competitors.
I asked Ian Freed, a vice president of the Fire Phone, how Amazon thinks it can compete with the Apples and Samsungs when the price is the same. Freed countered by saying that with a base model with 32 gigabytes of storage, a free year of Prime and free photo storage, the phone packs "a tremendous amount of value."
"We think it's absolutely a premium product," Freed said.
Freed also praised the tech in the phone -- the six cameras, the ability to auto-scroll and tilt without touching the phone's screen, the 3D capabilities and the "Mayday" button, which connects customers with customer service representatives instantly.
"We're not like any other smartphone," Freed said.
But to make matters even tougher for Amazon, its app store, even though it's growing quickly, is a fraction of the size of Apple and Google's.
It's easy to use the new phone to shop on Amazon, and download music, movies and games. Some of those have high margins for the company, so maybe Amazon doesn't actually have to sell that many Fire Phones for it to be a success.
Amazon had a chance to make a dent in the smartphone market by offering a decent smartphone at a really low price, but it seems to think that a host of features that make it really easy to shop online -- 3D capability, head-tracking technology, a camera that scans products and phone numbers, and customer service at the touch of a button -- are enough to get people to buy the phone.
What it actually may take is a price cut.
Related
Popular in the Community