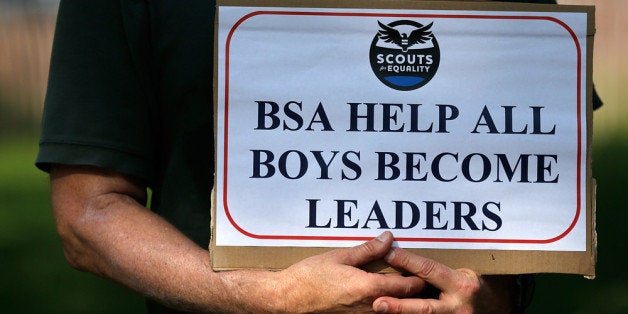 After seeing Geoffrey McGrath -- a gay Scoutmaster of Washington State -- have his membership revoked in the beginning of April, I launched a Change.org petition. The petition was made to call on Amazon and ask them to delist the Boy Scouts of America as eligible for its new philanthropic giving program, Amazon Smile, until the Scouts stop discriminating. After yesterday's announcement that the Boy Scouts have revoked Geoffrey's church charter agreement, a change in Amazon's policy is needed now more than ever. Charitable giving should not be used in the name of discrimination, which is how it would be used by the BSA under its current policy.
I still remember being in Grapevine, Texas and hearing the news that the Boy Scouts of America had voted to end its ban on gay youth. Everyone's cell phone started vibrating at once: The BSA had voted 61 percent to 38 percent to move past their membership policy banning young gay men, like myself. My mom and I looked at each other from across the room, and we were both in tears. I was going to get to become an Eagle Scout, and in February, that happened. I became one of the first openly gay youth to earn the rank of Eagle Scout under the BSA's new policy.
Yesterday, however, we were all given a grim reminder that the Boy Scouts of America still has a long ways to go when it comes to allowing gay members in the organization. In a deeply disappointing decision, the scouts revoked the charter of the Rainier Beach United Methodist Church, which had refused to throw out gay Scoutmaster Geoff McGrath.
Now, I want to be clear: I love Amazon. Like nearly everybody else, Amazon is a regular part of my life. Seriously, every other day there's a box at my doorstep that reads "AMAZON." When they announced their Amazon Smile program last fall -- which allows consumers like you and me to designate 0.5 percent of all purchases to be directed to charities of our choice -- I was excited because it's a great idea. But when I learned just a few weeks ago that a number of anti-LGBT organizations -- ranging from the Boy Scouts of America to the National Organization for Marriage, a Southern Poverty Law Center-certified hate group -- were included in this program, I was dismayed. These organizations have shouted out hate for who I am for years, and Amazon is supporting them?
Amazon is a progressive company, and it's a friend of the LGBT community. Jeff Bezos donated several million dollars to Washington State's marriage equality campaign. And that was exactly why I started a Change.org petition asking Amazon to follow its own polices, and to delist the BSA until they stop discriminating against Scout leaders like Geoff.
In fact, Amazon Smile's own website specifically states that eligible organizations must agree to a "participation agreement" before they are deemed eligible. And if you actually look at that agreement, it says right there under "Eligible Organizations," plain as day, that those organizations cannot "engage in, support, encourage, or promote: intolerance, discrimination or discriminatory practices based on race, sex, religion, nationality, disability, sexual orientation, or age." Go ahead and look for yourself: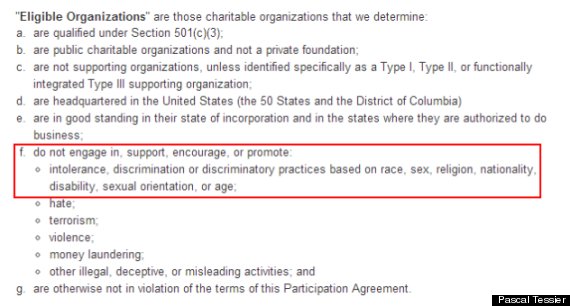 And yesterday's episode is a pretty clear demonstration that the BSA still engages in, supports, encourages and promotes discrimination based on sexual orientation.
I'll never forget that day in Texas and the moment when it finally hit home that I would have the chance to become an Eagle Scout. It was truly an experience I couldn't put words to. And then, as I received my Eagle award, I realized that the clock was ticking. In August, I'll turn 18, and I'll no longer be eligible to help advance the organization that made me the man I am today.
And that's nothing to smile about.
Support Pascal's campaign by signing his petition: here.
Popular in the Community