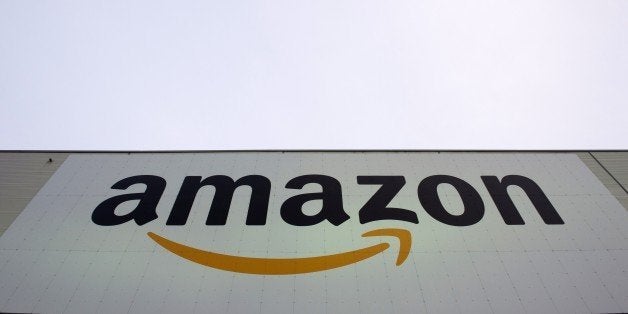 NEW YORK -- Soon, going to Amazon may mean more than just typing in a URL.
The online retail giant has signed a lease for a massive space in midtown Manhattan that some speculate could become its first brick-and-mortar store.
Located in the heart of the Herald Square shopping district, the space occupies about 470,000 square feet in 7 W. 34 St., a small office tower.
Vornado Realty Trust, which owns the building, said in a press release Thursday that the lease will last 17 years.
"We have leased this building primarily as corporate office space and we intend to sublease to other tenants the ground floor retail space," Kelly Cheeseman, an Amazon spokeswoman, said in an emailed statement to The Huffington Post on Saturday.
Cheeseman did not respond to repeated questions about whether a portion of the space will be used as a storefront.
No plans for an experimental brick-and-mortar Amazon store have been announced, but an anonymously sourced report in The Wall Street Journal last month claimed that the space would house the company's first physical store. According to the report, the space would function as a warehouse, with a limited stock for same-day deliveries within New York City, pickup, and exchanges and returns on products.
Wendy Kopsick, a spokeswoman for Vornado, directed questions to Amazon.
This past Friday, Amazon workers drove around New York in a refitted food truck, selling tablets, e-readers and Fire TV sticks to customers on the street -- which, if nothing else, suggests the company is willing to experiment with the distribution side of things.
Opening a physical store would come with certain risks. It costs money to lease and manage a space, and to hire staff for a new operation. Despite founder and CEO Jeff Bezos's seemingly ceaseless quest to explore new ventures -- one reason why the 20-year-old online bookseller now produces tablets and streams TV shows -- the physical retail market has eluded him. In many states, Amazon customers avoid paying a sales tax on purchases because the company does not have a physical outpost within those states' borders. (New York, however, does levy a tax on Amazon buys.)
Still, e-commerce makes up only 6.5 percent of the $4.73 trillion retail market, according to the research firm eMarketer. And amid calls by investors to focus on profitability, that other 93.5 percent may look appetizing to Amazon.

Related
Popular in the Community