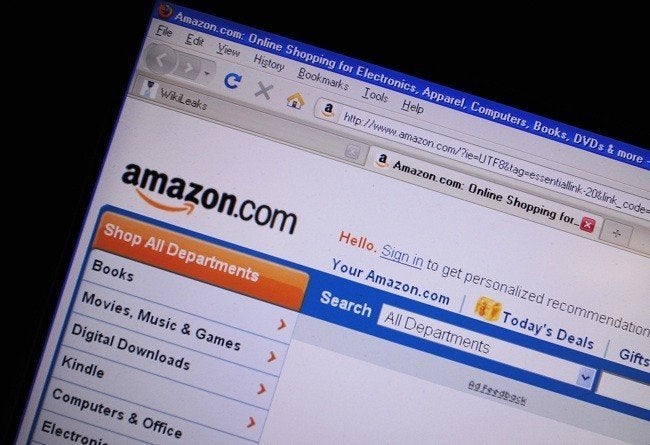 Shopping with friends can sometimes save you from making a poor decision at the checkout counter.
"Do these pants make my butt look--"
Amazon.com aims to give online shoppers a similar support system with its horde of so-called "customer reviewers," people who provide free content, suggestions, and feedback to the site for the purpose of informing other shoppers. Users can read critic's input and vote on whether it was helpful. The site's hub for the top customer reviewers lists the most popular critics in order of "helpful votes" their reviews have accrued.
But who are these helpful Amazonians with their friendly, conversational tones and their straightforward takes on consumer goods? A new study, led by Trevor Pinch of Cornell University's Department of Science and Technology Studies, examines 166 of the top 1,000 classic reviewers of books, music and movies and dissects their reviewing methods, as well as Amazon's ranking system and influence on these critics.
Reviewers are broken down into two categories: classic reviewers, who have been writing for Amazon for between 3 and 13 years (the average is 9 years); and new reviewers. According to Amazon, "The top reviewers have helped millions of their fellow customers make informed purchase decisions on Amazon.com with their consistently helpful, high-quality reviews."
Pinch's research team discovered that, while the site's classic reviewers write mostly about books and literature, a shift is occurring as Amazon has matured into a massive online retail store. New reviewers tend to quickly cover more diverse products (verify), and classic reviewers are hurrying to match their pace. However, the top classic reviewers remain bibliophiles and "are starting to age." Amazon's new ranking system rewards critics for their reviewing speed, as well as for the quality of the review and the positive comments from customers and other reviewers.
The top classic reviewers are also "over-represented by male reviewers," despite Amazon's best known reviewer being a woman, Harriet Klausner." Seventy percent of reviewers who responded to the researchers were male.
While looking through reviewers' posts in chronological order, the research team discovered that plagiarism is something of a problem on Amazon.com. Of the top critics polled, 35 percent said that their reviews had been copied by other writers at some point. As noted by the study, "reputation matters" within this community of writers, and highly ranked reviewers are quick to notify Amazon when others borrow too liberally from their work.
The site's favorite reviewers "derive a strong sense of identity from their reviewing activity," according to the study. Nonetheless, the researchers noticed some reviewers "cut corners and find ways of upping their productivity." Others accept perks, such as free books, from merchants. Of study's respondents, 85 percent said they had received such perks.
Still others are "directly solicited" by Amazon via the Vine Program, which gifts products to top critics in return for reviews that bear the tag "Customer Review from the Amazon Vine Program." Many of these Vine products are quick and easy to review, according to the study, and include items like pre-release books, left-handed scissors, light bulbs, deodorant and chocolate. "By May 2010, 66 percent of the respondent profiles we accessed displayed the 'Vine Voice' badge," the study found.
That's not to say that reviewers are selling their integrity en masse. "[A] lot of top reviewers are rather unhappy and a few are disengaging from reviewing for Amazon altogether," writes the study. "The credibility of the whole process is at risk and the energy and good will of these volunteer reviewers who work for scant rewards is in jeopardy."
Pinch's study concludes that Amazon is at a crossroads, where "the traditional world of book reviewing meets a rampant ecommerce culture." Reforming the reviewing and ranking system would require an end to "freebies and non transparent relationships between producers and reviewers," Pinch suggests. "But to do so would also run counter to the values and identity of many of the reviewers we surveyed whom feel that to receive remuneration for their reviews would further undermine the literary value of their endeavors and lead them open to even more accusations of reviewing for gain and with possible bias."
Pinch suggests that Amazon could also introduce separate rankings for each product category, but notes that this may complicate Amazon's simple rating system.
"We do not know what the solution is," Pinch writes. "But some way of harnessing the energy, ability, and imagination of this extraordinary community is needed such that a viable reputation economy can be put in place. If not the customer review is in danger of becoming an unwitting victim - itself losing credibility because there is, paradoxically no proper way to establish reputation. Words really do matter, but getting them to matter in the right way is never easy."
Popular in the Community