As techie Twitter user Jack Danger pointed out in a tweet, Amazon made a small change to its website that could put an end to "the gendered taxonomy of toys."
Indeed if you look at the category sidebar on the Toys & Games section of Amazon, you'll notice that the option to sort toys by gender is no longer there -- while a cached view of the site shows it previously included "boys" and "girls."
On the left are Amazon's prior search result categories. On the right, the option to select either "boys" or "girls" has been removed: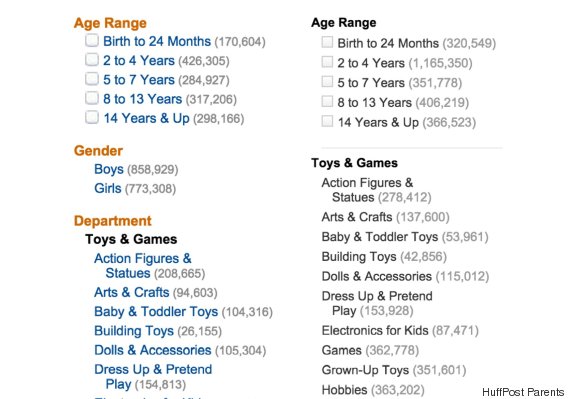 This is not to say that all traces of gender categories have disappeared from Amazon's Toys & Games section. There are still multiple links to pages for "Boys' Toys" and "Girls' Toys" at the top of the home page.
Jack Danger said in later tweets that he learned about this change through a friend who works on Amazon's taxonomy team. In response to other Twitter users' comments that boys' and girls' toy pages still existed in some parts of the site, he said he believes the removal of gendered categorization is "only partially complete." He tweeted, "The Amazon index is huge ... This isn't a simple system."
Like Us On Facebook |

Follow Us On Twitter |

Contact HuffPost Parents
Related