Beginning later this year, Amazon Prime members -- customers who've paid $79 for a year of free two-day shipping on millions of items as well as digital access to Amazon's library of movies, TV shows and ebooks -- will be able to watch several new TV shows the company is producing.
But unlike Netflix and Hulu Plus, Amazon's goal, analysts said, is beyond simply getting revenue from subscriptions. The retailer may well be using expensive original content to lure more people to its Prime membership service, so they'll be more likely to purchase products like cameras, books and K-Cups.
"Content is king," Brian Solis, principal analyst at Altimeter Group and the author of "What's the Future of Business," said in an email. "In an increasingly distributed consumption economy, Amazon is betting that content creates a bridge between Amazon, its products and services, and customers."
According to a report from Morningstar, the investment research firm, Prime members shop more frequently than non-members, spend twice as much annually and tend to buy more expensive products.
Amazon won't disclose how many people have coughed up for the annual Prime subscription. Morningstar puts that number at around 10 million. And Prime's loyal membership is predicted to grow to 25 million by 2017.
"It's pretty clear that there's been an emphasis on adding Prime memberships over the last four years," said R.J. Hottovy, the director of consumer cyclical and defensive research at Morningstar and the lead analyst on the report. He said Amazon's foray into original content is "not only a way to keep the current Prime customers happy, but also drive a wider audience to the service."
Amazon's investment in original content also helps differentiate Amazon Prime Instant View from other streaming offerings, a move that its competitors -- namely, Netflix and Hulu -- have already made.
But Prime Instant Video may be even more appealing to a potential customer shopping for a streaming service. Like Netflix and Hulu, Amazon offers its own library of television shows, movies and original and exclusive content (Amazon says "thousands of your favorite movies and TV shows"). But it also includes unlimited free two-day shipping for many Amazon products and, for Kindle owners, one free ebook each month from Amazon's library.
And it's about $1.42 per month less than Hulu and Netflix, which charge $8 per month, or $96 per year, for premium streaming services.
In his research, Hottovy found that Prime members who stream instant video often try Amazon's purchase and rental options, so the original content move may drive sales of digital content.
"I think this could be a way to jumpstart some of their digital content endeavours," Hottovy said.
Amazon has a robust recommendation engine, which uses data from a customer's previous purchases and Amazon browsing history to recommend other products. Data garnered from movies and shows that a customer streams will only strengthen those recommendations, better targeting potential sales.
Finally, Amazon, which already sells Kindle devices, is said to be developing a streaming box, similar to Roku and Apple TV, that would allow people to purchase and stream content from Amazon to their TVs. Morningstar found that over 95 percent of Prime members surveyed said they planned to renew their memberships, so if Amazon were to offer a free month of Prime memberships with the streaming device, like it does with its Kindle Fire tablets, it may lead to additional growth.
James McQuivey, a vice president and principal analyst at Forrester Research and the author of Digital Disruption, said the growth of streaming services and the proliferation of devices to consume content may not disrupt the television and movie industry overnight.
"In the end, each of these companies is saying the same thing: We have millions of viewers, we know what they want to watch, and we can distribute content to them more cheaply than HBO or NBC. So watch out," McQuivey wrote in an email. "It won't change the business overnight, but it does begin to erode the historical control studios have over the business. Erosion is the right word, because it moves slowly, but eventually it dissolves mountains."
Related
Before You Go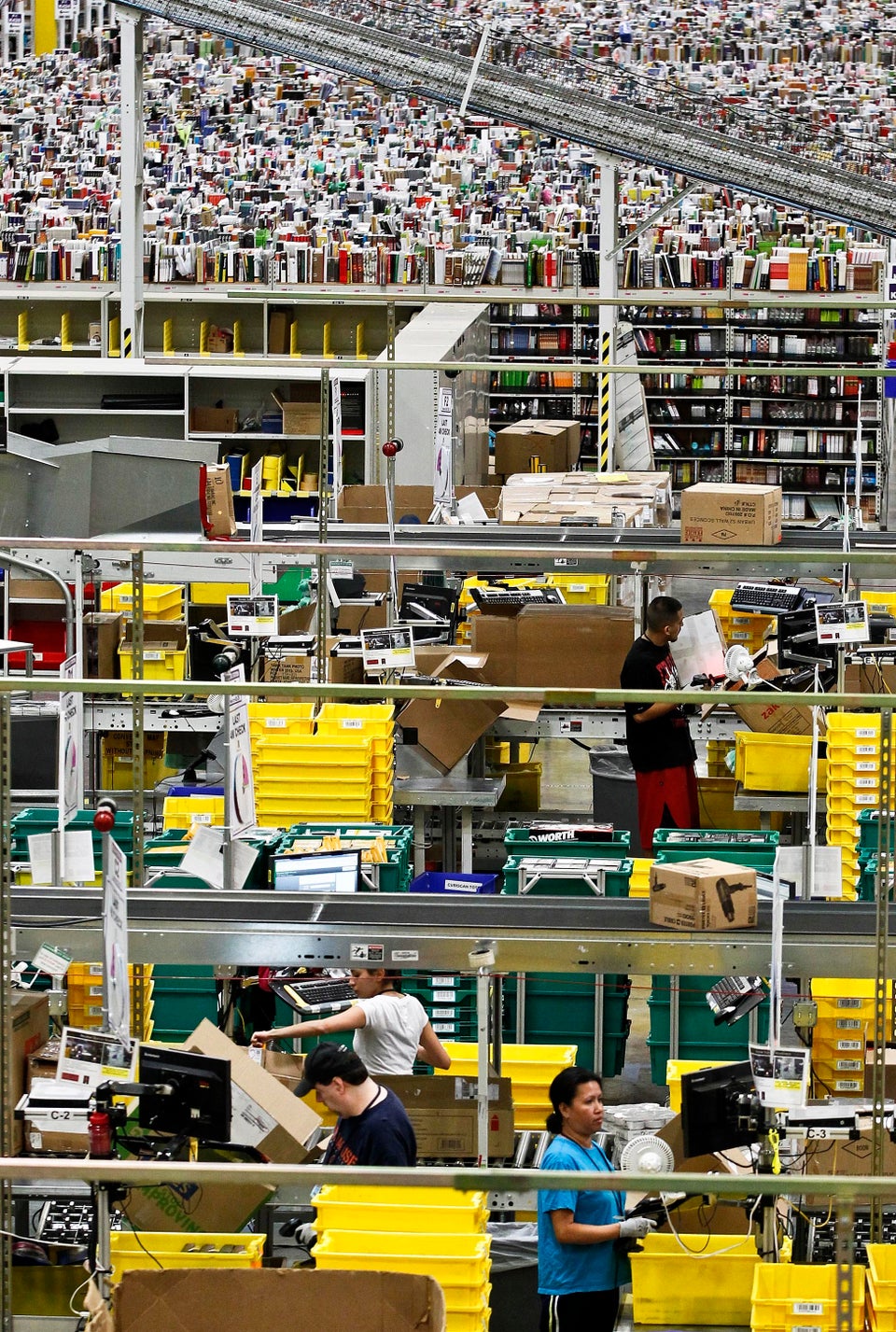 Inside One Of Amazon's Mind-Boggling Warehouses
Popular in the Community