Say you're running a warehouse. You've got lots of valuable goodies inside, so you want to keep close tabs on your workers. But some of your workers need to get outside every once in a while for a smoke. What do you do?
Apparently, you build the smokers a cage.
The Baltimore Business Journal reports that Amazon's new fulfillment center in Baltimore includes 30-foot-long outdoor cages that allow workers to step outside while still being confined. Black fencing runs from the floor to ceiling, "making it impossible for anyone inside it to pass objects to anyone standing in the parking lot."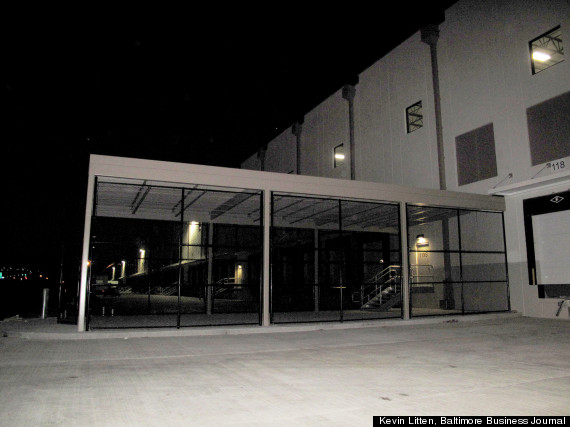 "I asked [project manager David Jennings] when I parked back there, 'What the hell are these cages back here?'" a lending broker told reporter Kevin Litten. "They don't want inventory going back and forth on the outside, so they secured off in the back somewhere for people who need a smoke break."
Click here for a large photo of one of the cages.
Amazon is known for being vigilant about making sure its merchandise doesn't leave warehouses with its employees -- or its many subcontracted temp workers, for that matter.
The company's warehouse workers have to go through a lengthy screening process before they can leave to take a break or go home after their shifts. As HuffPost reported, the company's close watch has led to a spate of lawsuits filed by workers arguing that they should be paid for the time it takes to be screened for theft. One such case has been kicked up to the Supreme Court.
According to the Baltimore Business Journal, Amazon sees the cages as a compromise between the company's need for security and the workers' need for occasional fresh air. Litten writes:
Jennings described security at Amazon warehouses as more stringent than airport screenings, saying the company is highly focused on maintaining strict inventory control. But the company also wants its employees to be happy, so it includes features such as the smoking cages in warehouses along with large break rooms, skylights and windows that would otherwise be unnecessary in the sprawling building on Broening Highway in Baltimore.
As Bruce Vail of In These Times reported, the new 1-million-square-foot fulfillment center has been hyped for bringing as many as 1,000 new full-time jobs to a city with an unemployment rate over 9 percent. The city and state put together $43 million in tax incentives to help lure the online retailer to Baltimore.
Amazon's warehouses have seen their share of labor strife, both in the U.S. and abroad. Earlier this week, about 2,000 warehouse workers in Germany went on strike. The German labor union Ver.di is trying to pressure Amazon into classifying the workers as retail employees, which would force Amazon into collective bargaining. The company claims the workers are employed in logistics, not retail.
Calling all HuffPost superfans!
Sign up for membership to become a founding member and help shape HuffPost's next chapter