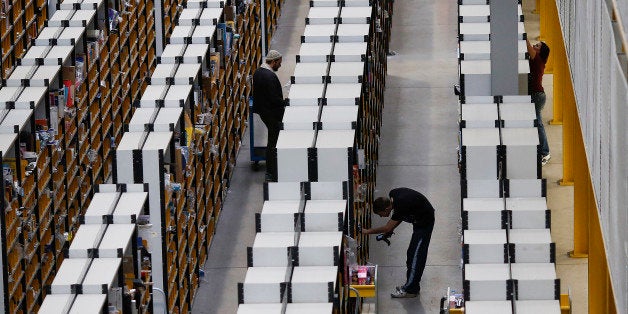 A new batch of Amazon warehouse workers sued the online retailer in federal court last week, claiming the company's workplace policies don't leave them with reasonable time to eat their lunches.
In the lawsuit filed in South Carolina, seven warehouse workers say they were required to continue working and complete their tasks even after their unpaid half-hour breaks began. Once they were done, they would have to wait in line to go through a security screening, then take a six-minute walk across the massive warehouse to get some fresh air and eat.
All told, the holdups typically left them with "less than 18 minutes" to enjoy their lunches before having to get back to picking and packing goods for Amazon customers, according to the suit. "Workers were unable to pursue their mealtime adequately and comfortably," the complaint states.
What's more, the workers claim those lunch breaks were interrupted by managers reprimanding them for failing to meet quotas out on the floor.
"Managers and Supervisors sometimes approach Warehouse Workers during Defendant's designated break period to give them written warnings and assign disciplinary points to them for [failing] to maintain the Defendants' productivity goals during the shift," the complaint states.
The squeeze on workers' break time violates federal wage and hour laws, the plaintiffs claim.
Amazon commonly uses temp workers in its warehouses, and the South Carolina complaint names two temp firms, Staff Management and SMX, in addition to Seattle-based Amazon. The plaintiffs named in the complaint all appear to have worked at their Amazon facilities temporarily and during peak season in 2012, 2013 and 2014.
An Amazon spokeswoman didn't immediately respond to a request for comment.
HuffPost readers: Have you worked in an Amazon warehouse? Tell us about it.
The South Carolina workers are just the latest in a long roster of Amazon warehouse workers who have accused the retailer of nickel-and-dime labor practices. Workers in states around the country have filed lawsuits arguing that they should be compensated for the time they're required to wait in security lines intended to prevent employee theft -- a claim also made in the South Carolina suit. The Supreme Court has agreed to take up that question this year.

A 2011 investigation by Morning Call reporter Spencer Soper detailed how many workers take seasonal Amazon jobs in hopes of landing full-time gigs, only to be cut loose by Amazon's temp firm, Integrity Staffing Solutions, after the holidays or once they get hurt.
Jesse Busk, the lead plaintiff in the case before the Supreme Court, previously told HuffPost that he was eventually laid off after the busy season for failing to meet quota. Busk was employed by Integrity Staffing Solutions, which is named as a co-defendant in his suit alongside Amazon.
"It was probably one of the hardest jobs that I've ever had," Busk said. "The mindset was just be grateful you have a job."
Related
Popular in the Community