Amazon.com Inc. announced plans on Friday to buy Whole Foods Market in a move that finally gives the online retail behemoth a serious brick-and-mortar presence.
The $13.7 billion deal supercharges Amazon's decade-long quest to take on the supermarket business, which accounts for up to $800 billion of U.S. consumer spending. Amazon began experimenting with food delivery in 2007, when it first launched AmazonFresh near its Seattle headquarters.
Now, with Whole Foods' 431 stores, located in mostly upscale neighborhoods of major cities, the company becomes a top player overnight. The acquisition also enthrones Amazon as the new boss of nearly 91,000 employees in the retail industry it's helping to erode by popularizing online shopping. And the tech giant's arsenal of newfangled sensors and software to eliminate cashiers could bode ill for many Whole Foods workers.
"Millions of people love Whole Foods Market because they offer the best natural and organic foods, and they make it fun to eat healthy," Jeff Bezos, Amazon founder and chief executive, said in a statement on Friday. "Whole Foods Market has been satisfying, delighting and nourishing customers for nearly four decades ― they're doing an amazing job and we want that to continue."
"Amazon understood that people are always going to go to food stores.""
But Whole Foods isn't just a supermarket. The grocer already serves as a hub for organic eateries, too.
"Whole Foods is not just about natural foods; Whole foods is about a shopping experience," David J. Livingston, a supermarket research consultant, told HuffPost by phone. "Whole Foods is a quasi-restaurant. You go into Whole Foods, and you have a bar, three to four different restaurant options inside."
Whole Foods stores feature oyster bars, barbecue spots, cafes, sandwich shops, pizzerias and sushi restaurants, Livingston said. Practically synonymous with gentrification, the grocer is located in dense, urban centers where incomes tend to be higher. There are nine Whole Foods stores in Manhattan alone.
"You don't differentiate yourself in the food business by selling Hellmann's mayo, ketchup and soup," Howard Davidowitz, chairman of the New York-based retail consultant and investment banking firm Davidowitz & Associates Inc., told HuffPost. "You differentiate yourself on your service offerings. Amazon understood that people are always going to go to food stores."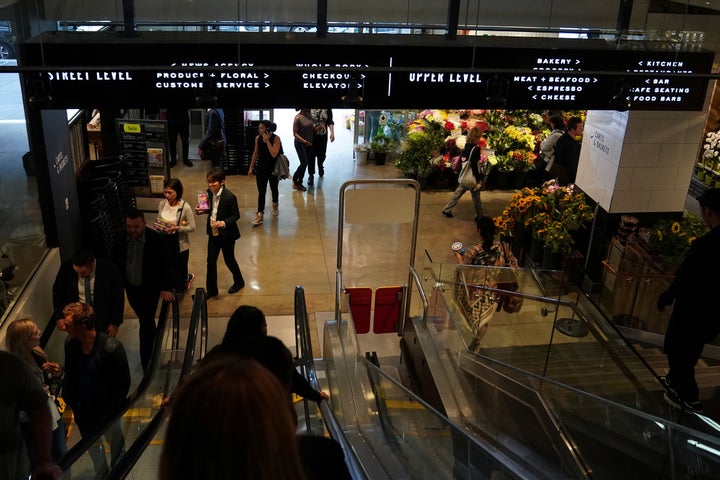 That gives Amazon a significant leg up on its chief rival, Walmart.
Walmart, the world's biggest retailer, has long dominated the discount market. Last August, the company bought Jet.com, the so-called "Amazon killer" founded by one of Bezos' former executives, in an effort to bolster its lagging online offerings and compete head-to-head with Amazon.
Walmart's e-commerce sales grew 63 percent year-over-year in the first three months of 2017. In 2014, the company launched an online grocery shopping option that allows customers to pick up their orders curbside, a service it plans to expand to more than 1,000 stores by the end of this year.
"Our customers are looking for shopping experiences that provide everyday low pricing and a mix of physical and digital channels that work best for their needs," Randy Hargrove, a Walmart spokesman, told HuffPost by email. "We feel great about our position."
Meanwhile, Amazon's recent brick-and-mortar efforts have sputtered. In 2015, Amazon, which started as an online bookseller, introduced a string of real-life bookstores. The shops garnered poor reviews, and the company only has five.
In March, Amazon postponed the launch of Amazon Go, a cashier-free grocery store that would automatically charge shoppers for items they put in their carts, allowing them to simply walk out when finished. But the technology was dogged by glitches when more than 20 customers were shopping at once, and Amazon was forced to delay the rollout.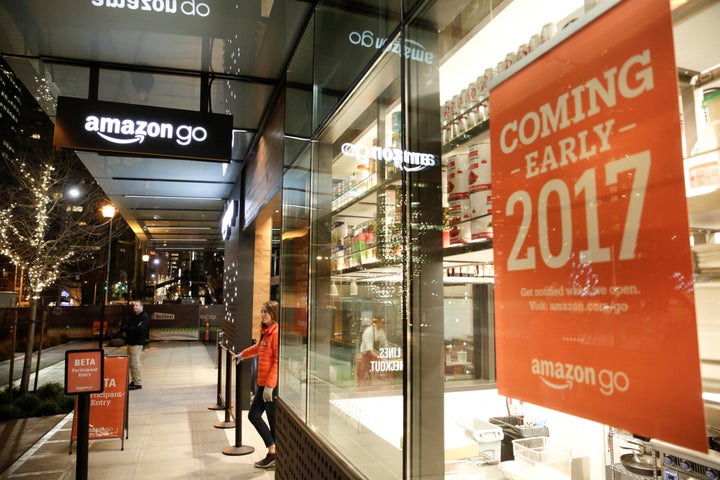 To keep growing, Amazon needs to compete in brick-and-mortar. Buying Whole Foods allows it to enter that arena without the dead weight of Walmart's massive retail footprint. Walmart operates 4,692 U.S. stores, including 3,534 Supercenters, which sell groceries. Those costs burn cash for Walmart, which has shuttered hundreds of stores and laid off thousands of workers over the past two years.
Like shopping malls, now widely eulogized as victims of suburban decline, Walmart's vast number of big box stores are its burden. But luxury shopping centers are the one bright spot for the mall industry, and Whole Foods gives Amazon a footprint in upscale areas.
"Walmart has too many stores, and anyone with too many stores is screwed," Davidowitz said. "Amazon had hardly any stores, and now they only have 431 in affluent areas."
"Amazon is now focusing on low-end customers, challenging Walmart head-on," Davidowitz said. "To me, this is a market-share play, pure and simple."
"That's what Sam Walton did," he added, referring to Walmart's founder. "That's what Sam always did, and that's what Amazon does. They go for market share first, and figure everything else out later."
"Walmart has too many stores, and anyone with too many stores is screwed. Amazon had hardly any stores, and now they only have 431 in affluent areas."
But the Amazon-Whole Foods merger could be a loss for workers. The deal is already facing opposition from at least one lawmaker. On Friday morning, Rep. Ro Khanna (D-Calif.) called on the Department of Justice and Federal Trade Commission to review the merger, which he said could "impact jobs and wages."
"We need to re-orient antitrust policy to factor in the harm that economic concentration causes for American workers," he told Vice News. "We also need to be mindful that concentrated industries stifle innovation."
If Amazon were to integrate the grab-and-go technology it is working to roll out in Amazon Go stores, that could eliminate cashier jobs. Whole Foods did not immediately respond to questions about how many cashiers it employs.
The grocer has long argued that its workers don't want a union. Whole Foods co-founder John Mackey claimed in 2013 that its benefits and working conditions were so good, "we're not so much anti-union as beyond unions." Two years later, a massive round of layoffs put that in question, as employees turned "bitter."
Amazon isn't likely to instill a better management system. The company's warehouses are notoriously brutal, and at times lethal, work environments. Its white-collar workers don't fare much better. In 2015, The New York Times published an explosive exposé detailing a Hobbesian work culture where employees are pushed to work 24/7 for bosses who expect a quasi-religious devotion to the job.
CORRECTION: This article initially understated U.S. consumer spending at supermarkets as $800 million; it is $800 billion.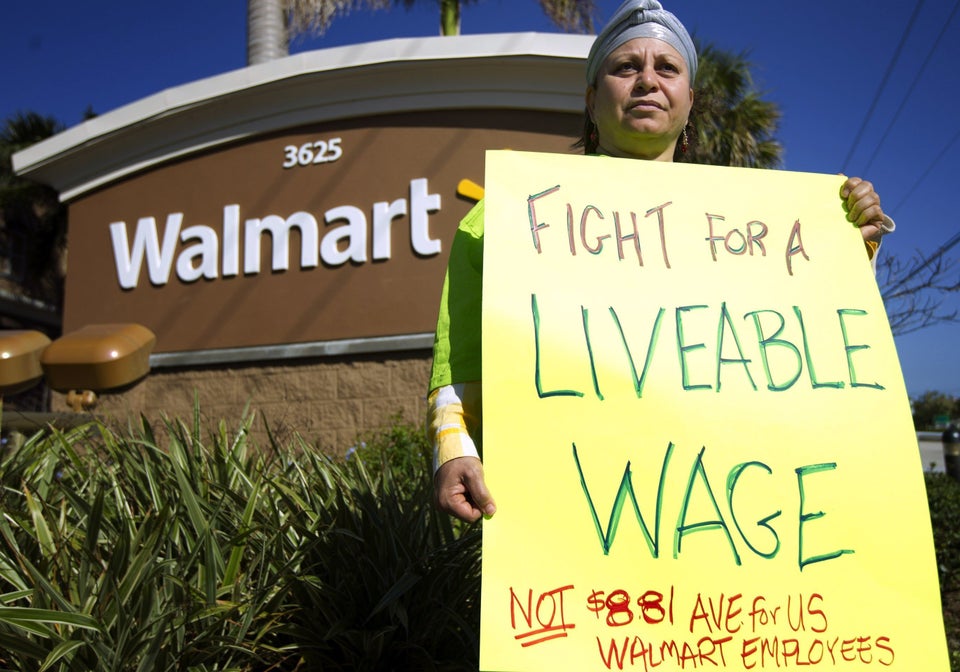 9 Things Walmart Would Like You To Forget
Popular in the Community