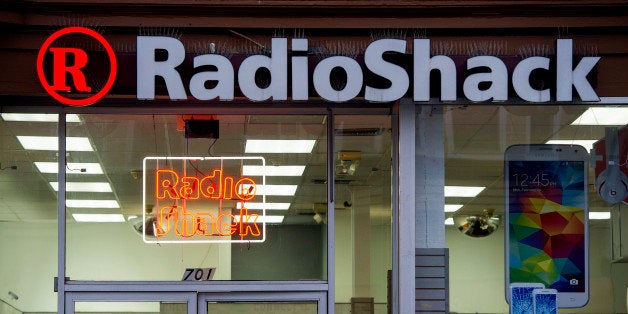 (Adds Amazon.com considers buying some stores)
Feb 2 (Reuters) - Amazon.com Inc and Sprint Corp are considering acquiring some RadioShack stores after the troubled electronics retailer files for bankruptcy, Bloomberg reported, citing people with knowledge of the discussions.
Amazon has considered using the RadioShack stores as showcases for the Seattle-based company's hardware as well as potential pickup and drop-off centers for online customers, Bloomberg said. (http://bloom.bg/1D7QnUa)
Sprint and RadioShack have had talks about co-branding some of the stores, Bloomberg reported, citing two anonymous sources. The rest of the stores would close down, Bloomberg reported on Monday. (http://bloom.bg/16aNrZw)
The New York Stock Exchange (NYSE), meanwhile, said its regulatory arm was acting to delist RadioShack shares, and would suspend their trading immediately. (http://bit.ly/1CrbPV5)
Another bidder could yet emerge to buy RadioShack and continue operating the 94-year-old chain, Bloomberg said.
RadioShack declined to comment on the Bloomberg report and said it had not confirmed any of the information. Sprint declined to comment. Amazon could not immediately be reached for comment outside regular U.S. business hours.
The Wall Street Journal reported on Sunday that Standard General, a hedge fund and the largest investor in RadioShack, was in talks to serve as the lead bidder at a bankruptcy auction.
On Monday, the NYSE said it started the delisting process as RadioShack did not intend to submit a business plan to address its non-compliance with the exchange's listing standards.
RadioShack had received a warning from the NYSE last month - the second time in a year - that it had 45 days to come up with a business plan.
The exchange sends such a notification when companies listed on it fail to maintain an average market capitalization of $50 million over 30 consecutive days.
RadioShack warned last September that it faced bankruptcy if talks with lenders and stakeholders about a sale or a restructuring failed.
The electronics retailer was once the operator of go-to shops for innovators and engineers for products ranging from vacuum tube speakers to the first mass-produced PC.
But the company has failed to transform itself into a destination for mobile phone buyers, losing out to rivals such Amazon.com Inc and Wal-Mart Stores Inc.
RadioShack said in October that it would seek to convert a loan of $120 million, given by investors including Standard General and Litespeed Management LLC, into equity "in the coming months."
RadioShack shares, which had touched a high of $79.50 in 1999 during the dotcom boom, closed down 13.3 percent at $0.24 on Monday. (Reporting by Ramkumar Iyer, Yashaswini Swamynathan and Supriya Kurane in Bengaluru and Malathi Nayak in San Francisco; Editing by Joyjeet Das and Gopakumar Warrier)

Popular in the Community