Amazon Prime's new series Goliath doesn't reinvent television drama. It just reminds us how good it can be when it's done well.

The legal/cop/political/thriller show, which drops Friday on Amazon Prime with Billy Bob Thornton and William Hurt in the lead roles, is the best new series on television this fall.

It's a closed-end story, meaning it will be resolved at the end of its eight episodes. If the franchise returns it will have new players and a new tale, a la Fargo or True Story.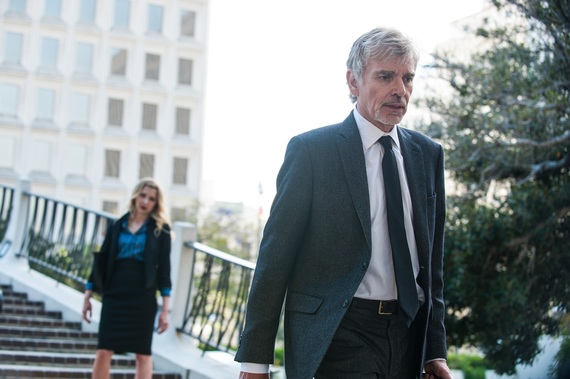 In fact, Goliath may remind viewers occasionally of the first season of Fargo, primarily because of Thornton (above), whose performance as Billy McBride is equally riveting here.

Billy isn't a psychotic killer this time, just a lawyer who has been knocked from the top to the bottom for reasons that aren't immediately clear.

At one time he was the co-named partner in Cooperman & McBride, a multinational firm that exemplifies the concept of Power Law. This firm is hooked into major players everywhere and knows enough of their secrets that it has ironclad protection against ever being supplanted.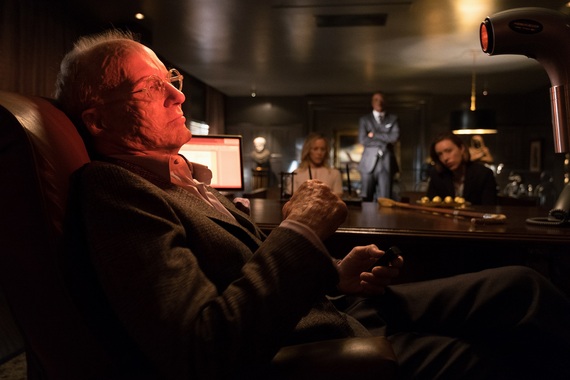 We soon figure out that the man now running things, Donald Cooperman (Hurt) (above), had a personal falling-out with McBride. He now covets a level of personal vengeance that initially seems at odds with his obvious understanding of the lawyerly need to approach every issue in a cold, clinical way.

We also soon see that Cooperman has many quirks, and sufficient authority that no one under him would dare even allude to them, never mind question them.

When we meet Billy, he's drinking. Our initial impression, like those of people like his daughter Denise (Diana Hopper), is that he drinks too much.

On the contrary, he says, "I drink just the right amount."

There's his persona. Droll, guarded, depressed, but somehow just not quite entirely 100% all the way out of the game.

He works freelance, as a public defender for clients whose names he doesn't care about learning. A little like John Turturro's recent character on HBO's The Night Of, you say? Well, yeah. In no way is that a bad thing, and Billy seems to have no higher ambition than to earn just the right amount of money to pay the rent on his gloomy apartment and keep the drinks coming.

But he also still drives a vintage Mustang convertible, and periodically we are reminded that at one time he was one of the sharpest lawyers anywhere. He gets reminded of that, too, and it seems to just call for another drink.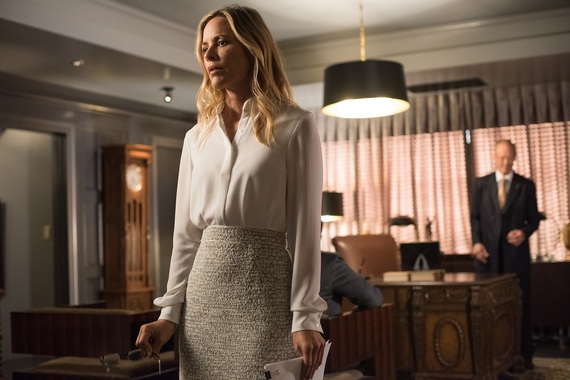 His diffidence drives his daughter nuts. It drives his ex-wife Michelle (Maria Bello) (above) nuts. Probably because they both still care about him. Michelle, at least, apparently realized some time ago that she couldn't maintain her own career as a super-lawyer, or even her sanity, if she spent too much time trying to rescue him.

Then one day, thanks to the same plotline god who smiled on Turturro in The Night Of, or on Paul Newman back in the 1982 film The Verdict, Billy stumbles into a case that slips his damaged toe into a small crack under thedoor that leads back to the big time.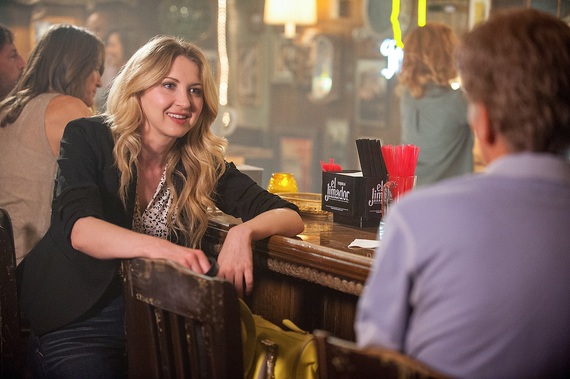 Goliath takes off from there, with several simultaneous chess matches that pit Billy against Donald, and Billy against forces bigger than Donald. He's supported by quirky outliers like Nina Arianda's Patti Solis-Papagian (above) and a handful of ragged five-and-dimers, going up against against some of the biggest money in the world.

Billy is hardly an unblemished hero through all this. It's the measure of Thornton's acting skill that he makes us root for Billy in spite of Billy.

Hurt also shines in the latest of the quirky roles he seems to seek out. Like several characters here, he keeps his menace subtle yet precise and inevitable.

Goliath was created by David E. Kelley, who is known for broadcast shows like Boston Legal, Ally McBeal and The Practice. Kelley says he pitched an Amazon series in part because a commercial-free hour gives him time to let scenes breathe, and it's clear he likes having that option.

The early episodes of Goliath, in particular, sometimes move at a deliberate pace, and viewers who prefer more constant action may at times want Kelley to get on with it.

But while Goliath isn't perfect, the writing and acting add up to a story that becomes more compelling with each episode, and confirm again that some of today's best TV isn't on TV.
REAL LIFE. REAL NEWS. REAL VOICES.
Help us tell more of the stories that matter from voices that too often remain unheard.