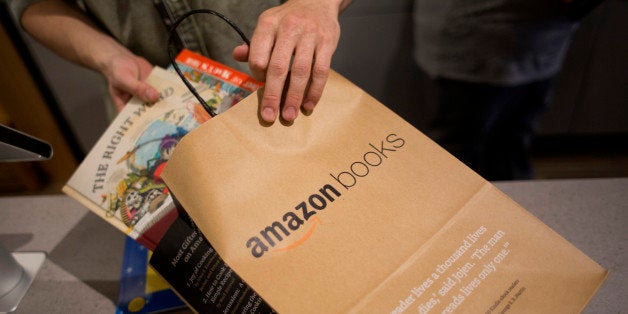 In an internal email this past Monday, Amazon announced a new parental leave plan that provides paid paternity leave and extends paid maternity leave, to take effect on January 1. Markedly, in addition to extending paid maternity leave to up to 20 weeks for birth mothers, the revamped policy adds six weeks of paid time-off for new parents -- who have worked for the company for at least a year -- regardless of gender, allowing new fathers paid time-off following the birth or adoption of a child for the first time in the e-commerce superpower's 21-year-long history.
Following similar policy updates from Yahoo, Netflix, Microsoft, and Adobe, Amazon's new plan brings the Seattle-based e-commerce giant up to speed with a growing group of tech companies that are working to improve family leave for their employees.
Moreover, Amazon's new plan is restricted to full-time employees and does not apply to contract or temporary workers, which are becoming far more prevalent in today's on-demand economy. Additionally, one should keep in mind that just because a policy is adopted, that does not necessarily mean workers will have easy, unfettered and encouraged access to it.
Aside from the exciting, albeit still limited and long over-due step major tech innovators are taking to foster family leave policy change, what particularly interests me about this story -- as someone who has made my career out of managing image crises and spinning PR disasters -- is, of course, the sheer timing of it all.
The announcement comes only months after a scathing New York Times story brought to light Amazon's hellish workplace culture and abhorrent treatment of its employees, putting the company under severe public scrutiny and triggering widespread backlash and condemnation.
While there may have been pressure to catch up to the other tech giants revamping their family leave policies, Amazon is undoubtedly scrambling to some extent to revive its tarnished public image before moving into the ever-critical holiday shopping season.
Unsurprisingly, Amazon contested the accuracy of the claims made against them, though the company's defensive refutations did little to effectively mitigate criticism, provide reassurance, and improve public perception. Indeed, improving its parental leave policy to better serve employees and their families, is but the latest in a succession of carefully and intentionally crafted (some more so than others) PR moves designed to combat the image painted by the exposé.
Amazon's immediate response was fairly typical and expected, with the company sharing an employee's anecdotal response and Amazon CEO Jeff Bezos distributing a company-wide memo.
In a somewhat more novel approach to remedying their lingering image issue, Jay Carney, Amazon Senior Vice President for Global Corporate Affairs, responded directly to the New York Times in a no holds barred blog post on Medium, in which he questioned the reporters' credibility as well as that of the former Amazon employees quoted in the article.
Carney's response instigated a continuing back-and-forth, which escalated with the Times' executive editor Dean Baquet publishing his own blog post standing by the original story and Carney once again responding. Despite the somewhat odd and overly defensive nature of Amazon's rebuttals, they, at the very least, captivated the media, entertained spectators, and gave the company a necessarily foothold to begin reclaiming its image.
Which ultimately brings us to Amazon's latest announcement. It doesn't take a PR professional to sense that this new parental leave policy is suspiciously well-timed. Moreover, the change clearly directly addresses some of the most damning concerns raised against Amazon's workplace culture. Namely, the multitude of former employees who either left or were terminated from the company after facing criticism, formal punishment, and general callousness in their efforts to return following authorized maternity leave.
So it's likely no coincidence that part of Amazon's new plan includes a return-to-work program that provides a graduated path to employees returning from leave. It's definitely smart PR, and while Amazon has stated that the formation of the new policy began early this year -- prior to the controversy surrounding the company's workplace culture -- the shift was undoubtedly part of an intentional plan to directly repair the company's image and improve public perception.
Despite it being a well-timed PR move, that isn't to say the change itself isn't a good thing, nor is it necessarily disingenuous at all. While it doesn't address all of the concerns over how Amazon treats its employees and regardless of the motive behind it, the new family leave policy is certainly a concrete, positive step in the right direction, and will hopefully continue the trend of improved workplace policies for parents and families.
Regardless of the bad press that escalated into an old fashion food fight, in the old and new worlds of information dissemination. Regardless of whether you believe this was a calculated PR move or the good soul of a corporation. The end result of a change in corporate policy is a plus for the rapidly growing workforce at Amazon and high profile example set for others.
At the end of the day, I suspect it will be a record setting holiday sales season for Amazon. And while their cash register may very well be how they will measure public perception, as they should. I'm hard-pressed to criticize a positive change in policy no matter what the inspiration may have been for it, curiously timed or not?