In today's cluttered video universe, answering the casual question "So what's good on television?" can be tricky.
It's not tricky at all with Amazon's The Marvelous Mrs. Maisel. This new series, which launches Wednesday on the streaming service, is simply flat-out good television.
As in, really good television.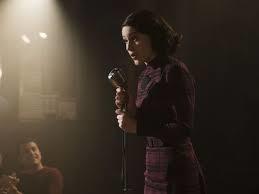 Rachel Brosnahan plays Miriam "Midge" Maisel, who seems to be living the dream.
The year is 1958 and she's a housewife in a luxurious Upper West Side apartment with a seemingly great husband, Joel (Michael Zegen), and two kids.
Her parents Abe (Tony Shalhoub) and Rose (Marin Hinkle), who also live in this supersized apartment, are annoying in a way that makes us roll our eyes and understand that being annoying is just what they do. They can't help it.
Joel works in real estate, or something, and yearns to become a standup comedian. Toward this end, he steals one of Bob Newhart's routines and does open mic nights at the Gaslight, a legendary real-life Greenwich Village club.
Miriam encourages him, attending his shows and talking comedy.
It's all good until one night he bombs and when they return to the apartment announces that he's leaving. We wonder for a moment why he can't just have the flop sweats like everyone else, until he further announces he's been having an affair with Penny, whom Miriam accurately assesses as his "halfwit secretary."
Miriam, understandably in shock, starts chugging a bottle of sweet wine and takes a cab ride, still in her nightgown, to the Gaslight. She stumbles on stage and turns the events of the last two hours into an improvised routine that leads into what Rick in Casablanca once called a wow finish.
Hey, it's one way to break into show biz.
Who knew it was that simple?
Miriam in truth hadn't planned this little episode as a career move, but an employee of the Gaslight, Susie Myerson (Alex Borstein), recognizes it as precisely that. Susie tells Miriam she's been watching comedians for 20 years and the only other one who had that intangible on-stage magic was Mort Sahl.
The Sahl reference is genius on the part of Amy Sherman-Palladino, who with her husband Daniel created Mrs. Maisel. So is Miriam crossing paths with another real-life new-wave comedian of the era, Lenny Bruce (Luke Kirby).
Their inclusion, and Mrs. Maisel's own singular style, give the show a smart and knowing undercurrent of comedy history, acknowledging a moment when the winds were shifting and no one knew exactly where they would blow.
Mrs. Maisel also deftly explores Jewish culture of the late 1950s. The more familiar comic part, the part that makes us roll our eyes, is woven into the tragedy of a community still riddled with unspeakable loss.
It's less than 15 years since the death camps, and everyone had someone, usually several someones, who didn't come back.
The sorrow permeates the air, with the rage alongside.
"You want a friend who will take a bullet for you," Abe tells Miriam, "not one who'll point to the attic and say, 'They're up there.' "
Strong stuff. Still, the heart of Mrs. Maisel, in every sense, is Brosnahan's Miriam.
She lives in a world that by all outward appearances is perfect, exactly what she wanted, until one moment reveals how much of it was façade and how fragile that façade can be.
She defines her life by Joel, which is what she's supposed to do, then he leaves. She turns to her parents and they tell her she must have done something wrong.
She's a victim, though it wasn't defined that way in 1958. She's left to define herself, and by the end of the first episode it's clear that's what the show is going to be about.
The bottle of sweet wine notwithstanding, she doesn't spend much time on self-pity. She finds a course and follows it, not always with complete success, but always with, well, heart.
Brosnahan captures Miriam perfectly. She's bewildered and terrified without being intimidated. She's funny without sounding glib.
After the first setup episode, you can't wait to see how Mrs. Maisel is going to navigate the world. It's sometimes ragged, sometimes messy and sometimes R-rated. It's also funny and it's almost always very good television.
REAL LIFE. REAL NEWS. REAL VOICES.
Help us tell more of the stories that matter from voices that too often remain unheard.
This post was published on the now-closed HuffPost Contributor platform. Contributors control their own work and posted freely to our site. If you need to flag this entry as abusive,
send us an email
.