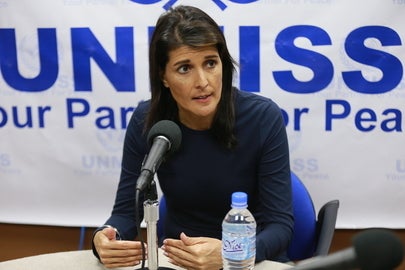 U.S. Ambassador to the United Nations, Nikki Haley, just completed her first trip to Africa where she visited UN peacekeeping operations in the Democratic Republic of Congo (DRC) and South Sudan, and a UNHCR refugee camp in Ethiopia where she met with South Sudanese refugees.
Arguably the most important outcome of this trip was Ambassador Haley's meeting with South Sudanese President Salva Kiir and Congolese President Joseph Kabila where she addressed the issues facing their countries and the implications their actions could have on future support from the United States.
I've traveled to both DRC and South Sudan over the past three years and have witnessed the grave challenges facing their citizens – the first of which is the lack of accountability from the countries' leaders. Ambassador Haley's comments to these two African presidents underscored just this problem.
To President Kiir, Ambassador Haley stated she "wanted to see him lead and lead all of his people… And that means they can't go hungry, they can't be abused, and can't be raped. Children can't be abducted."
Ahead of her meeting with President Kabila, Ambassador Haley stressed, "the president must say that we're going to have elections in 2018…We will not support with funding, resources, anything, if the calendar does not specifically specify no later than 2018 for these elections to happen."
These two important messages come at a critical time where four million South Sudanese have fled their homes and more than seven million Congolese are on the verge of starvation.
Even amid the dire circumstances, UN agencies including UNHCR, WFP and UNICEF are working diligently to provide relief to those displaced by conflict and facing looming famines. South Sudan and DRC also have two of the most robust and largest UN Peacekeeping operations in the world. These peacekeeping missions provide life-saving support to civilians and bilateral aid. However, despite their best efforts, these humanitarian crises will not be resolved without a long-term political solution.
Ambassador Haley's message from her first trip to these two countries is spot on: The U.S., the UN and the international community are doing as much as possible to support the people of South Sudan and DRC. Now, it's time for Presidents Kiir and Kabila to step up and work through a political process to secure a better and brighter future for their citizens.
Related
Popular in the Community