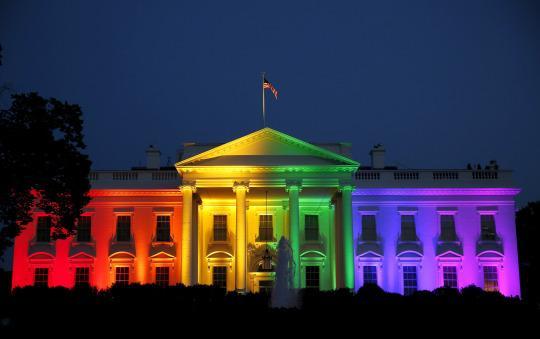 "And recently, Mr. President, you swept the White House in the rainbow colors. Being the first country on Earth to allow same-sex partnership, Denmark admires and supports your fight for diversity and equal rights," said the Danish Prime Minister Lars Løkke Rasmussen in his address to President Obama during the Nordic Leaders' Summit.
President Obama had invited the Nordic leaders to meet, last week, to reaffirm our U.S.-Nordic partnership. It was a wonderful summit, which culminated with Prime Minister Rasmussen's remarks on LGBT rights. Not only did his remarks receive the biggest applause during the State Dinner, it also made me feel very proud to be from Denmark.
The U.S.-Nordic bond is based on set of strong, shared values. The respect for universal human rights regardless of sexual orientation or gender identity is one of the strongest bonds between Denmark and the U.S. Therefore, the paragraph on LGBT rights was also one of the easiest to formulate collectively amongst the U.S. and Nordic leaders in the U.S.-Nordic Leaders' Summit Joint Statement
The language on LGBT in the statement is strong and is really a reflection of how far we have come with the LGBT agenda. That being said, much more has to be done! Millions of people risk discrimination, humiliation and even imprisonment and death because of sexual orientation or gender identity every single day. The U.S. is in itself an example of how LGBT rights may improve in some states, while they deteriorate in others. That is to say that even with improvements, the protection of LGBT rights is an agenda we have to follow closely every single day.
To underscore Denmark's continued commitment to support the equal rights and dignity of LGBT people I spoke at the conference "The Geopolitics of LBGT Rights" on Capitol Hill this morning. During the conference, I joined the initiative "Ambassadors for Equality". I am proud to join 42 other ambassadors, who have signed up for this initiative in order to support the equal treatment, dignity and protection of LGBT people. The initiative is spearheaded by Ambassador Andras Simonyi, who's doing tremendous work to advance LGBT rights.
It is a strong belief amongst the Danish people that all people are born equal and free. This human rights based approach is reflected in all of Denmark's engagements around the world. With our human rights lens, we do not regard LGBT rights as a matter of being gay or straight. It's about ensuring that everyone enjoys the same universal rights.
The inclusion of all is well reflected in the Danish laws. Let me give you five quick examples:
1. Denmark was the first country in the world to grant legal recognition to same-sex "registered partnerships" (in 1989). The law was replaced by a new same-sex marriage law in 2012. This includes marriages in the Evangelical Lutheran Church in Denmark.
2. Discrimination on the grounds of sexual orientation was entirely prohibited in 2004. Danish law includes hate crimes legislation, which adds extra penalties for crimes committed against people because of their sexuality and for their gender identity or form of gender expression.
3. Same-sex couples were allowed to jointly adopt children in 2010.
4. Gay, lesbian and bisexual soldiers are allowed to serve openly and without hindrance in all branches of the Danish Defence. We have prominent openly gay military leaders and no reported cases of threats.
5. Denmark is also set to become the first country to no longer define being transgender as a mental illness. Being transgender is considered a mental or behavioural disorder by the World Health Organization.
A dear friend of mine, Ambassador Rufus Gifford, the U.S. Ambassador to Denmark, truly encompasses the LGBT agenda. Ambassador Gifford is a strong diplomatic partner here and in Denmark. He is openly gay. And he decided to get married to his partner Dr. Stephen DeVincent in Denmark. Their wedding was a big event - not only for the couple themselves, but also for us Danes. We were very proud. Ambassador Gifford is an inspiration to all.
At the Danish Embassy we will continue to work hard for LGTB rights. The next opportunity is on June 11, when the 2016 Capital Pride Parade takes place here in Washington, DC. I will certainly be there - and so will my Nordic colleagues from Finland, Iceland, Norway and Sweden. Make sure to save the date and join us in this colourful, fun and important manifestation.
Calling all HuffPost superfans!
Sign up for membership to become a founding member and help shape HuffPost's next chapter