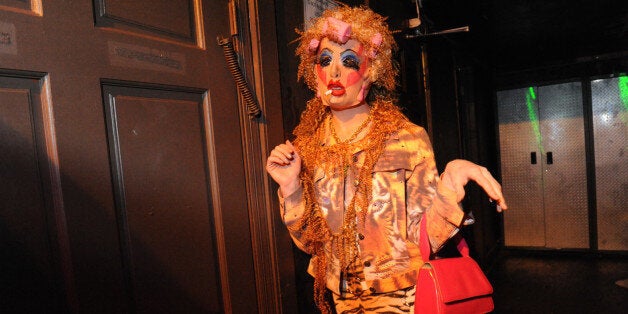 This is the fourth installment in an ongoing series that explores drag culture and the nightlife scene in Brooklyn, N.Y. Over the past several years, following the large-scale exodus of artists across the East River and into northern Brooklyn, those engaged in drag culture in this outer borough have created a new, queer world entirely their own. Accompanied by a larger movement to understand drag culture outside of the pageant circuit, many individuals engaged in the drag community in this borough approach drag culture through a nontraditional lens of "alternative" drag or performance art, enabled largely by the malleable and queer nature of this part of New York. Visit HuffPost Gay Voices regularly to learn not only about the individuals involved in Brooklyn's drag community, but more about the culture of the community itself.
The Huffington Post: How did you get your start in the drag world?Amber Alert: Like many great drag queens, my story starts in the Midwest! As a weird little kid in Milwaukee, Wisconsin, I was lucky enough to have a dress-up box, so I've always been creating characters. Eventually my dress-up box became a costume closet, and now it's simply my wardrobe. But I got serious about drag at around age 14, when I discovered "The Rocky Horror Picture Show." Attending those performances was the first time I'd ever experienced a community of self-fancied freaks, so naturally I became a regular and started winning all of the costume contests. Then at 16 I joined the cast as Trixie, the hostess, and did that for two years, followed by four years of art school before I finally moved in New York. My first gig in Brooklyn was at Bath Salts, which is Macy Rodman's Monday night party at Don Pedro. I felt immediately at home there amongst the irreverent trannies, on a stage thoroughly soiled with imitation bodily fluids. As I got to know more queens, I was invited to perform at more shows, and now I'm a very busy girl!
Describe the drag scene and community in Brooklyn -- How does Brooklyn as a community shape and construct drag culture?Can I please just have a grant to write about this topic? I could write a really cute thesis actually, but I'll try to keep it succinct: when you go out to see a drag show in Brooklyn, you are going to see something that you have never seen before and will never have the opportunity to see again, period. The queens in Brooklyn don't like to repeat numbers or looks, and we all go to see one another's shows, so there's a lot of incentive to be innovative. Many of us are friends who all live and work in this community. It would almost be quaint if it wasn't so queer!
What does it mean to you to be a drag queen? How do you experience or understand this identity?Fundamentally, I find empowerment in drag. I'm powerful every day of my fabulous life, of course, but when I'm in seven-inch platform heels with six different kinds of gems on my face and a really good ponytail extension? To-ta-lly Un-stoppable. In performance I really try to find a balance between self-expression and entertaining my audience. Both are very important to me, and both can be achieved simply through having fun. Drag needs to be fun. If it stopped being fun I would stop doing it, but that's just not going to happen. When I'm in drag I'm automatically having more fun than you, and looking better doing it. That's how it works.
(The interview with Amber Alert continues after the slideshow.)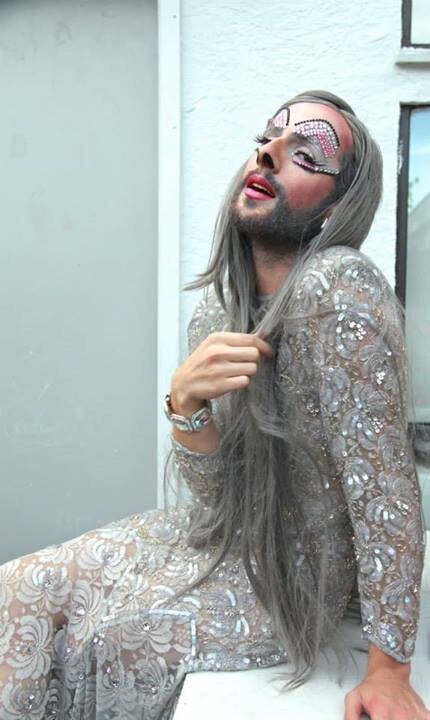 Amber Alert
In what way would you say that the drag scene in Brooklyn points to the direction that drag is going?I don't think drag could ever be going in any kind of direction in a linear sense, but I can give you a pageant answer for this one: I would really hope that the inclusivity of the Brooklyn drag scene represents the future of drag, because people of all genders and body types deserve to be queens if they want to be.
How would you characterize the kind of drag that you do?Well first and foremost, there are as many kinds of drag as there are drag queens! I don't think drag has many rules, but I find it critically important to not take oneself too seriously. Beyond that, I like to embody a rather filthy/gorgeous sensibility. I think of my look as campy, though there's often an element of "fish," it's just bearded fish. Whether I'm doing a character or just a casual look, I try to be aware of my reference points, because context is everything. I always want to keep my performance style varied, but an accurate and expressive lip-sync is crucial, and I embrace opportunities to incorporate comedy or a specific narrative. And although I love nightclub performances for their spontaneity or even chaos, it's also so rewarding to collaborate with other queens and artists on more concrete projects in digital mediums. I studied photography and film at school, so that always informs my work regardless of the form it takes.
Drag culture is becoming increasingly more mainstream, particularly with the popularity of "RuPaul's Drag Race." How would you say this has affected drag culture and the nightlife community?"Drag Race" purportedly sets a standard for "good" drag, but that style is not necessarily aspirational. Personally, I find affirmation in subverting the "Drag Race" conventions. That makes me edgy, right?
And as Merrie and Untitled mentioned, there is the added consequence of a plethora of baby queens, but I figure it's also building the audience, so everyone wins.
Where can you be found throughout the week?If I'm going out or performing on Mondays it's always Bath Salts at Don Pedro, forever, and Wednesday would be Two in the Bush at Metropolitan or Bottoms Up at Sugarland! If I'm not performing I'm absolutely attending every show at Secret Project Robot, because that space is such a dream. And Chris Tyler's TRL nights at This 'N That somehow manage to make me more uncomfortable every time.
Any parting words?Well my album isn't on iTunes yet so for now just follow me on Twitter @MzAmberAlert!
Missed the previously featured drag performers and installments in this series? Check out the slideshow below.
Support HuffPost
Every Voice Matters
Before You Go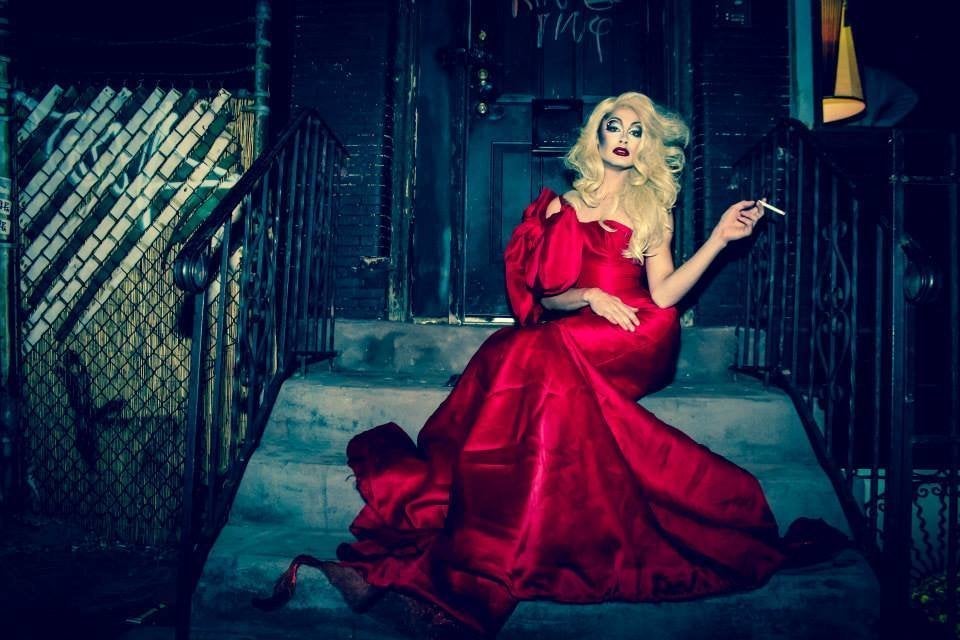 Queer New World: Brooklyn Drag Culture
Popular in the Community