Allen Banks, police department chief in the Texas city of Round Rock, reported on Twitter Wednesday that suspect Terry Allen Miles had been apprehended in Colorado. Lilianais Griffith, 14, and Luluvioletta Bandera-Magret, 7, the daughters of Tonya Bates, were found safe.
Banks said in a press conference Wednesday that Colorado's Las Animas County Sheriff's Office had received word that the girls were in the area. Authorities located the suspect's vehicle and began to follow it, then noticed the suspect began to drive erratically. Banks told reporters that once backup arrived, the police initiated a "high-risk traffic stop" and Miles was taken into custody "without incident."
"The two girls were located inside the vehicle. They both were unharmed and safe at that time," Banks said at the press conference. "The girls will be transported to the hospital and checked medically."
Banks said two Round Rock detectives would fly to the Trinidad area on Thursday morning to conduct interviews. Child Protective Services in both states will coordinate to return the girls home.
"Obviously we still have a lot of work to do in regards to this case, we still have a lot of questions to be answered," Banks said. "Hopefully we will have those questions answered.
An Amber Alert was issued on Sunday for the two missing daughters of a woman who was found dead in her Texas home over the weekend.
Round Rock police officers conducting a welfare check at a residence on the 2600 block of Leslie Court found the body of Tonya Bates, 44, on Sunday. Cause of death was not released.
Police are now searching for her daughters: Lilianais Victoria Cake Griffith, 14, and Luluvioletta Mariposo Bandera-Magret, 7. The girls were last seen on Saturday and police believe they are in grave or immediate danger.
Lili is Hispanic, 5 feet tall, weighs 100 pounds, has brown eyes, a right nose stud and braces. Lulu is Hispanic, 4-feet 5, weighs 75 pounds, and has curly brown hair and brown eyes.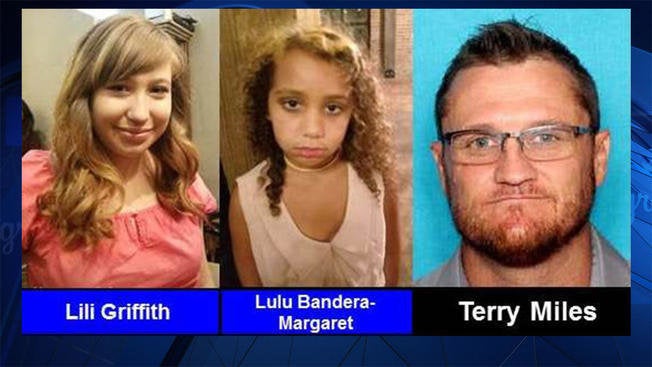 Police are also searching for Terry Allen Miles, 44, who's considered a person of interest in the suspicious death of Bates, Round Rock Police Chief Allen Banks said at a press conference. He is white, 6-feet 2, weighs 200 pounds, has hazel eyes, wears glasses and has a beard.
Although Miles was living in Bates' home as a roommate, the two were not involved romantically, Banks said.
"We believe that the two daughters are in the presence of Terry Allen Miles," said Banks. "Our concern and our focus is bringing the two girls home safe. We ask for the public's help in locating the two young girls."
Miles has a long criminal history in Louisiana, including previous arrests for suspected domestic abuse, KPLC reported. In 2011, he was arrested on attempted second-degree murder charges linked to an attack on his girlfriend. Police said he beat her with a blunt object and choked her to the point of unconsciousness. The status of that case is not known at this time.
Miles has been sighted in northern New Mexico and southern Colorado. Investigators said he may be headed to Louisiana. He's driving a gray 2017 Hyundai Accent hatchback with Texas license plate JGH 9845 and a white sticker on the upper right corner of the rear window.
Anyone with any information is asked to call 512-670-5700, 800-843-5678 or 911.
CORRECTION: A previous version of this story used a police misspelling of Luluvioletta Mariposo Bandera-Magret's last name, and incorrectly said police discovered Tonya Bates' body on Saturday.
Related
Popular in the Community