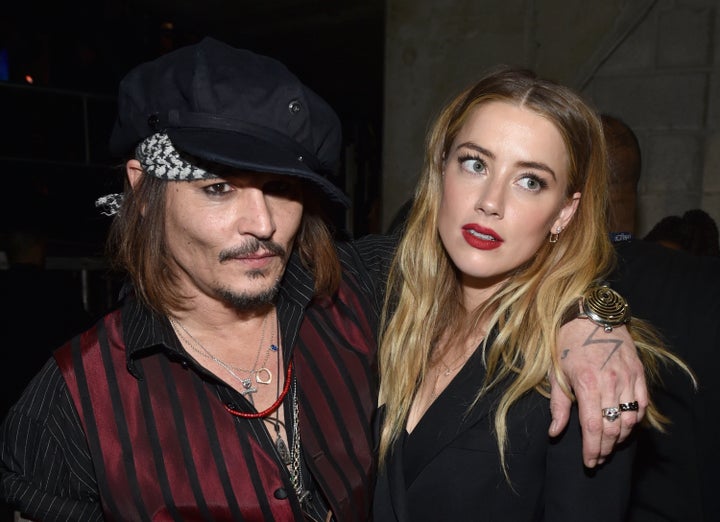 New details alleging domestic abuse have emerged from court documents Amber Heard filed in her application for divorce from Johnny Depp.
Two days before Heard filed for divorce, she alleges Depp hit her in the face with a cellphone, pulled her hair and verbally accosted her, according to the court filings media outlets including The Los Angeles Times and People obtained.
"During the entirety of our relationship, Johnny Depp has been verbally and physically abusive to me," Heard states in a sworn declaration. "He has a short fuse. He is often paranoid and his temper is exceptionally scary for me."
Heard submitted photographic evidence to support her abuse allegations to the court on Friday morning, as she applied for a restraining order from the "Pirates of the Caribbean" actor. Depp's attorney, Laura Wasser, filed a response accusing Heard of falsifying abuse claims to "secure a premature financial resolution."
Both Heard and Depp's representatives did not immediately respond to requests for comment.
The court documents detail an altercation between Heard and Depp on Saturday, May 21. Heard claims that she was with friends in the couple's Los Angeles apartment when Depp returned "inebriated and high."
She said in the evidence submitted that they were discussing the recent death of his mother, when Depp "began obsessing about something that was untrue" and violently lashed out at her, demanding that she phone a friend to validate his accusations.
"Johnny ripped the cell phone from my hand and began screaming profanities and insults at iO [the friend]," she said, according to the court documents. "I heard iO yell at me to get out of the house. Johnny then grabbed the cellphone, wound up his arm like a baseball pitcher and threw the cellphone at me striking my cheek and eye with great force."
It is unclear from the court documents where her friends present earlier were during the altercation, but Heard said the incident ended when a neighbor she texted arrived. She alleges that Depp then smashed her belongings before leaving the apartment.
The LAPD arrived at the apartment on May 21, but the "party didn't want to provide information or make a crime report," NBC News reports, citing a police department spokesperson.
There is currently no criminal investigation into Heard's allegations of abuse, the spokesperson added, according to NBC News.
Need help? In the U.S., call 1-800-799-SAFE (7233) for the National Domestic Violence Hotline or visit the National Sexual Assault Online Hotline operated by RAINN. For more resources, visit the National Sexual Violence Resource Center's website.