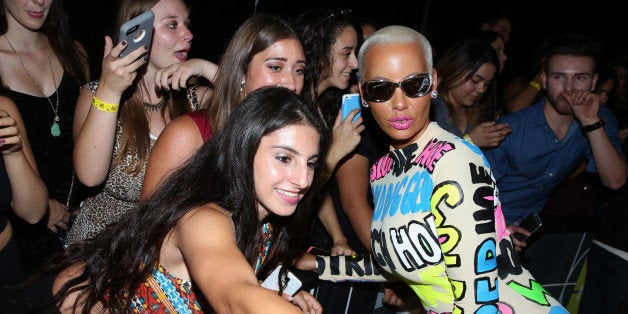 The world of pop culture was introduced to Amber Rose as the girlfriend of rapper and creative, Kanye West. Since hitting the red carpet with the 2020 Presidential Candidate years ago, Rose has developed her own career outfitting her with many hats including actress, fashion designer, social media sensation, mother, and now -- symbol of modern feminism.
Because of her overtly sensual appearance, killer curves, and undoubted self-acceptance of the two, Rose has been the target for many criticisms and side-eyes for flaunting her figure [and twerk isolation skillz] from both women and men.
But, the summer of 2015 proved to be a time for Rose to flourish. With moves like the release of her first book and the organization of the inaugural Amber Rose Slut Walk, Rose's name has been brought up under the umbrella of culture's modern-day empowerment for women.
Below are some of her most recent power moves, made in Rose's unique fashion, toward gender equality for women:
#1: The 'Walk of No Shame'
The latest in Rose's journey to become a new face of modern feminism comes in a two-minute package that shows her leaving the home of a man after consensual, casual sex. She starts her bright morning off with what society calls the "Walk of Shame," but with the support of Orange is the New Black/How To Get Away With Murder star Matt McGory, Rose conveys a strong message about a long-lasting double standard against women.
Watch the Funny or Die Video here.
#2: Fighting 'Slut-Shaming' With LA's Forthcoming Slut Walk
Slut shaming is defined as the act of making a girl or woman feel guilty or bad about certain sexual behaviors that deviate from the social norm. This type of shaming can happen to women who wear revealing clothes, showcase promiscuous sexual behavior, or even woman who have casual, premarital sex or explore birth control options. Rose has had her fair share of negativity and "slut-shaming" because of her brand as a former stripper and overall sexual woman. Comments made by former beau Kanye West in a Breakfast Club Interview warranted this response from Rose:
"We were happy when we were together! And now all of a sudden, I'm getting slut-shamed because we're not together anymore and it's not fair."
Rose is taking her views a step further by organizing her very on Slut Walk -- an event that faces the sexual double standards between men and women and topics such as sexual assault head on. Slut Walks have occurred in cities like DC before, but not at a magnitude and with a name as big as Amber Rose. She speaks about it a bit more in her June interview with radio personality, Big Boy.
#3: Ever Wondered How to Be a Bad Bitch?
Amber Rose has got you covered! The new author released her first book in the fall of 2015 entitled How to Be a Bad Bitch. In the work, Rose chronicles her road to success covering love, beauty, fashion and finances all while practicing self love, confidence and acceptance. She defines a "bad bitch" as a "self-respecting, strong female who has everything together. This consists of body, mind, finances and swagger; a woman who gets her by any means necessary."
The book is packaged with a cover that bears Rose's amazing figure as she defeats a young man at the hand of her bow and arrow. She frames the path she took in her transformation from her past to present growth, and how she's lining up her moves for future success.
Whether you support her eye-opening Instagram posts or not, you can't deny the unique strategy #MuvaRose is using to bring topics that affect her and women everywhere to the forefront of women's issues.
What's your thought on Rose's mission?