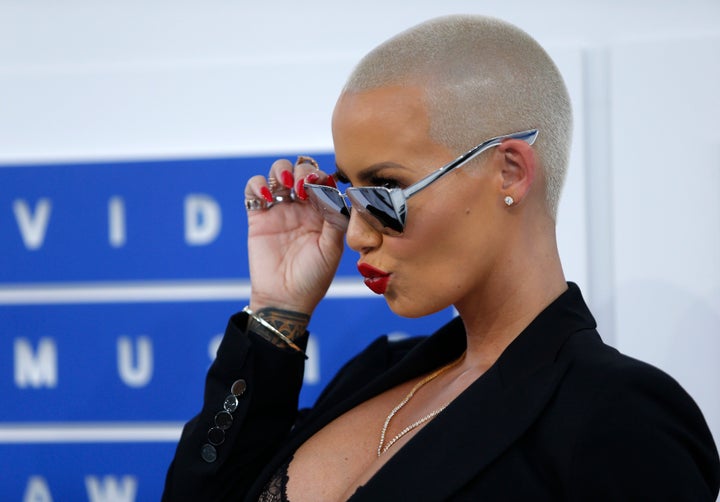 When it comes to her love life, Amber Rose has proudly declared herself "extremely open" and able to "find beauty in everybody." But the 33-year-old model, rapper and actress surprised fans last week when she revealed she'd rule out a romance with a bisexual man. 
"Personally—no judgment—I wouldn't be comfortable. I just wouldn't be comfortable with it and I don't know why," the model, actress and rapper told the show's host, sex therapist Dr. Chris Donaghue. "I just wouldn't do it." 
When a Facebook user pressed her to clarify, Rose added, "I think it's amazing when a guy is bisexual and he's comfortable with it. But in my personal life, in my sex life, in who I choose to love, I just think that I would think about it too much. It would bother me in a way. I wouldn't be comfortable with it and I don't know why."
The 33-year-old acknowledged that she has dated both men and women in the past, although made a point to note that she "hasn't been with a girl in a very long time." 
"Maybe I'm not secure enough to be with a man that likes other men because I would feel like when he's out with his boys, it's just more of a moment," she said. 
Needless to say, her comments angered some fans who'd tuned in to the Facebook stream. One accused her of embracing a "double standard," while another noted, "This is a problem with people accepting bisexuality in women and not men. Hints of homophobia."
That's all the more reason we'd hoped for a little more open-mindedness from the star, given her candor and willingness to push boundaries around sexuality. 
Check out more "Loveline" on the Play.it podcast network here. 
Calling all HuffPost superfans!
Sign up for membership to become a founding member and help shape HuffPost's next chapter
BEFORE YOU GO