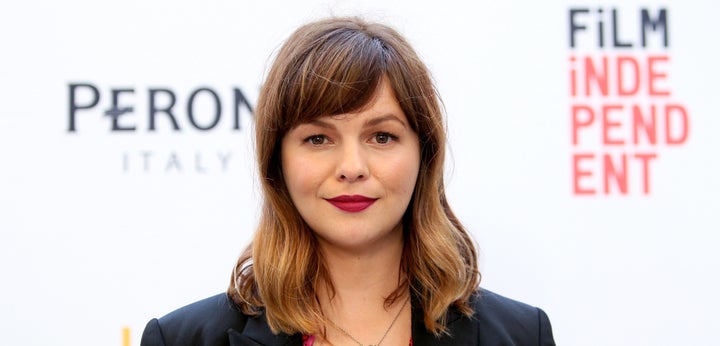 Amber Tamblyn wants the world to rethink the language we use to describe women. 
In a powerful essay published Wednesday morning for Glamour, the 33-year-old actress revealed that she's pregnant with a baby girl. The news, she wrote, made her think about the way the world was "built by and for men," and what that means for her daughter. 
"How much do I have to do, as a daughter and a soon-to-be mother, to change not just the conversation about how women are seen," Tamblyn wrote. "But the language with which conversations are spoken in?" 
A few weeks ago (in the wake of the newly-released hot mic video in which Donald Trump bragged about grabbing women "by the pussy"), Tamblyn posted a gut-wrenching Instagram post detailing the time she was assaulted by an abusive ex-boyfriend. In her Glamour essay, the actress described telling her mother about this assault and finding out that her mother had also been assaulted when she was younger.  
When Tamblyn's mother told her mother she had been assaulted years ago, she responded: "Boys will be boys." 
"This is what has passed for wisdom, what's been handed down between women for generations. It continues today," Tamblyn wrote. "It encourages women to take a backseat in their own lives, telling them it's OK: men know how to drive and know what they're doing."
Tamblyn campaigning for Clinton in an awesome "Maker America Ferrera Again" T-shirt, as a nod to her "Sisterhood Of The Traveling Pants" co-star.    
Tamblyn's essay ties together common themes that exemplify the sexism in our culture and why it's so damaging and dangerous for women: Her assault, her mother's assault, how our culture is quick to justify men's mistakes and the way we talk about our first female presidential candidate.
Hillary Clinton is a mom. She's also a daughter. She's also a grandmother. I have wondered what kind of conversations she's had to have with her daughter about men, or what conversations Hillary's mother had to have with her about boys?... I am not asking you to rethink a woman. I am asking you to rethink women, period. Go deep. See the frame that holds the big picture. Men have countless examples of leaders in public office, while women have had almost none. Whether you are an actress, a teacher, a candidate for student council or a candidate for President of the United States, if you are a woman you have navigated your life solely in a world built by and for men.
She went on to urge readers to see women as humans who are flawed, just like men.
"Powerful women don't get to exist outside of context. To discount all the good [Clinton has] done in her 30 years of public service and pay attention to the bad is, at best, severely myopic," Tamblyn wrote. "At worst, it erases the struggles and achievements of all women."
Her most powerful point came towards the end: "If we are not allowed to be complex, compromising, wholly human ― as human as men ― then we are all disqualified."
Head over to Glamour to read Tamblyn's powerful essay in full. 
REAL LIFE. REAL NEWS. REAL VOICES.
Help us tell more of the stories that matter from voices that too often remain unheard.
BEFORE YOU GO
PHOTO GALLERY
The Multiple Facets Of Modern Feminism