This coming Monday May 20th, a HUGE protest was planned outside of the Abercrombie & Fitch headquarters in New Albany, Ohio. A brigade of national press had already agreed to cover the protest and 17 year old Cali Linstrom along with dozens of other teens were scheduled to be present to voice their concerns.
It seems that teens and young adults are starting to push back from the kind of advertisers that try to sell them products using emotionally unhealthy advertising. More and more teens are becoming media literate and less tolerant of being told that they're not good enough for whatever reason the company may have to sell them something.
I'll take you through the events that led up to the protest being cancelled:
This past Monday May 13th, 17 year old Cali Linstrom from Illinois...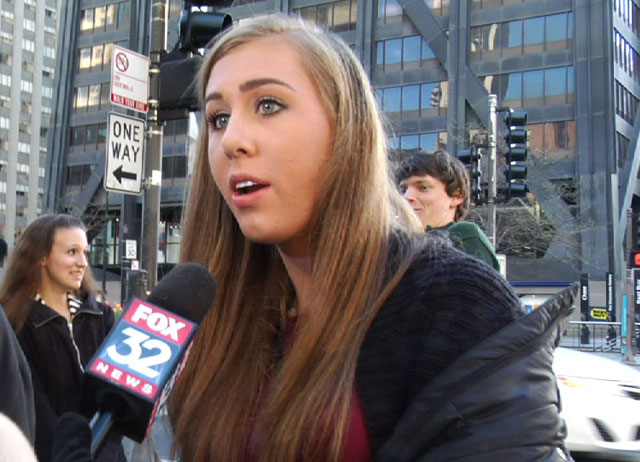 ...and dozens of other teenagers protested at the Abercrombie & Fitch store in Chicago (835 N. Michigan) at 4pm. The protest was in response to Abercrombie & Fitch's CEO Mike Jeffries statements made in a Salon Magazine interview.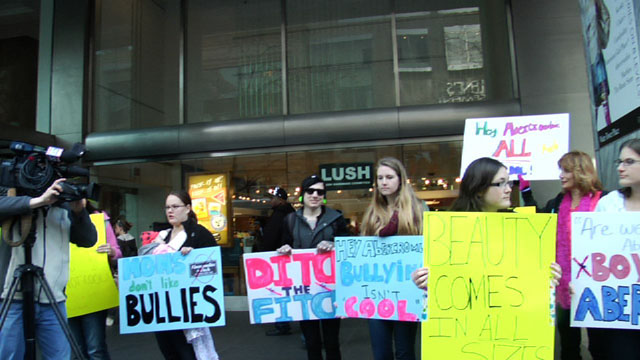 15 news crews covered the protest including Good Morning America. Several networks contacted Abercrombie and Fitch for a response and all they said was "No comment regarding the protest."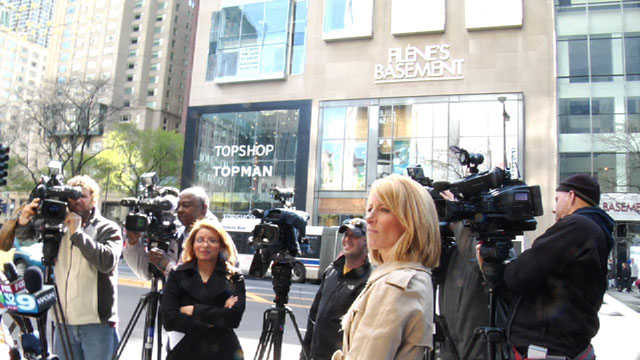 Cali still upset that Mr. Jeffries wouldn't apologize, even after protesting at his his Chicago store or at least acknowledge why he said the things that he said, decided to stage a protest this Monday May 20th in front of the Abercrombie & Fitch corporate headquarters in New Albany, Ohio. Dozens of teenagers and Lynn Grefe, the president of the National Eating Disorders Association was set to join Cali.
On Tuesday May 14th (the day after the Chicago protest), I sent 34 executives at Abercrombie & Fitch the following email message alerting them of another protest that was on the horizon and to let them know that the teens just wanted an apology.

Sent to A&F executives on Tuesday May 14th at 5:40pm -
I need to speak with you or a representative from Abercrombie regarding a planned protest at another one of your stores. This will be done by the same group of teens that protested at your Chicago store yesterday. 15 news stations showed up including Good Morning America. Even more press people have contacted the teens asking what's the next step for them. The first thing that the teens want is an apology from Mike Jeffries or a representative of Abercrombie on Mr. Jeffries behalf. The other thing that they'd like is to sit down with someone at your corporate headquarters to discuss the negative consequences of "bullying and discrimination," two things that Mr. Jeffries words feed into. Even though the teens feel that Mr. Jeffries comments were "way insensitive," what bothers them even more is his refusal to apologize or even acknowledge why he felt the need to say something so hurtful and mean.

Let's do the right thing for our youth. You can reach me at 773-###-####.

Darryl
On Wednesday May 14th, CEO Mike Jeffries issued this statement as an apology:
"I want to address some of my comments that have been circulating from a 2006 interview. While I believe this 7 year old, resurrected quote has been taken out of context, I sincerely regret that my choice of words was interpreted in a manner that has caused offense. A&F is an aspirational brand that, like most specialty apparel brands, targets its marketing at a particular segment of customers. However, we care about the broader communities in which we operate and are strongly committed to diversity and inclusion. We hire good people who share these values. We are completely opposed to any discrimination, bullying, derogatory characterizations or other anti-social behavior based on race, gender, body type or other individual characteristics. "
Mike Jeffries, Chairman & CEO

I shared the statement with Cali and she gave me her statement in response:
Dear Mike Jeffries,

I appreciate your response to our concerns we have voiced regarding statements you had made in an interview from 2006. I'm sorry you consider your words to be taken out of context, but what you said is blatantly offensive to many people including myself. It is completely adequate for your company to choose a particular segment of customers. I find no issues surrounding who you target for business, and that is undeniably acceptable.
I'm pleased to hear that A&F is opposed to any discrimination or bullying, although I hope you can see how your statements would be perceived as bullying. I accept your apology and am genuinely pleased to hear that you regret your choice of words. I acknowledge your opposition to any discrimination, bullying, and other anti-social behavior. I sincerely hope you and your company will stand by those words and take action to prove so.
I stand with Mr. Roberts in calling off the protest for Monday. I do so in hope that your company will refrain from discrimination and bullying, especially based on ones body type or physical appearance.

Thank you for your personal response and I anticipate more professional behavior to result from these issues.

Sincerely,
Cali Linstrom
This morning I thought about both statements. Cali's and Mike Jeffries and I did see a common thread. One of not wanting to bully people and not tolerating discrimination. As a result, after a productive conversation with Abercrombie & Fitch, we discovered we share similar philosophies about anti-bullying and determined we could support each other's goals by working together. As such, we have decided to call off the protest of A&F's headquarters in Ohio on Monday.
I will keep you posted on the developments as they happen.