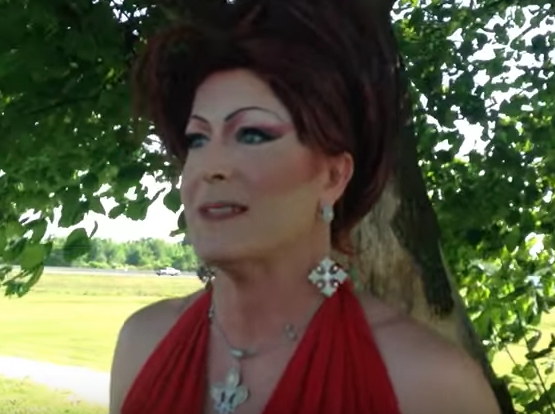 "I'm just a good old-fashioned drag queen," Ambrosia Starling said in an interview with me on SiriusXM Progress. "Do the show. Make somebody smile when they're not feeling good. Keep on rocking. Get ready for this fall's local charity event."
The event to which Starling refers is "Labor of Love," an annual nightclub event in her hometown of Dothan, Alabama, that she's been part of since 1997 and which benefits LGBT causes. It was her way of contributing to the community. But lately Starling has become more overtly political, joining the Southern Poverty Law Center, the American Civil Liberties Union and many other groups and individuals, speaking at rallies against Alabama Chief Justice Roy Moore, who'd refused to follow the Supreme Court's ruling on marriage equality and had ordered probate judges in the state to refuse to marry same-sex couples.
When a complaint filed by the coalition recently resulted in Moore's suspension from the court, pending a hearing from Alabama's Court of the Judiciary, which could remove him from the bench, Moore singled out "professed transvestite" Ambrosia Starling as leading the effort against him, even though Starling was in fact just one among many people involved.
"Oh what a fool you are," Starling said during our interview, regarding's Moore's zeroing in on her. "Because you have decided, like every other bully in my life, to pick on the weakest kid in the room. And I have a pretty good batting average in that arena."
And now Starling, who publicly only uses her drag name (and female pronoun) for fear of putting her family at risk of harm in conservative, rural Alabama, says she may run for governor in 2018, particularly if Moore seeks to use the controversy to run for governor again. Moore made gubernatorial runs in 2006 and 2011, losing in the GOP primary both times. After entertaining a presidential run in 2011, he decided to run for the Chief Justice to the Alabama Supreme Court in 2012 -- which he'd been famously removed from once before, in 2003, for failing to remove a Ten Commandments monument from the court rotunda -- and won.
"He's going to run again for governor," Starling said, noting that he'll use the backlash against marriage equality and the activism it has spurred as a springboard to gain support among conservatives. "Be very sure and understand this. I told the group at [a] rally, 'It's very possible I'm handing Roy Moore the governorship on a silver platter.'"
And if Moore does run, he may find Starling as his opponent, running as an independent and in drag -- and legally changing her name to her drag name, again to protect her family, she said.
"When the idea was first thrown at me to run for office in the state of Alabama, at first I laughed," Starling recalled. "And then I said, 'Well wouldn't that be something? That it finally takes a drag queen to straighten out the circus of politics' If it takes a drag queen to get everyone to face the front, same direction, and listening, I'll do that."
In the meantime, Starling said that she will take on the fight in Alabama that has now turned to bathroom bills, with some legislators, like Rep. Will Ainsworth, attacking transgender students.
"It's persecution of what they think are the weakest citizens in the population," Starling said. "And they're gonna find out that the transgender community, the friends that I've come up with, they're a lot stronger than you think they are. Because whether they pass or not, they walk that walk every single day. That is the kind of courage that I don't have as a drag queen entertainer. By the time I've done my eight hours I'm through, I'm out. I can't do no more. I couldn't do what some of the people in the transgender community do just to feel like they're normal, today. They can't think about tomorrow, because they've got to get through today."