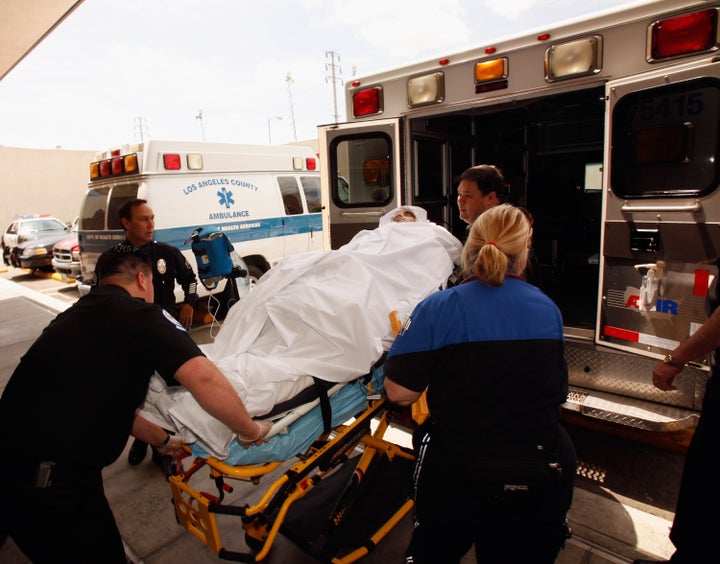 Imagine you call 911 and tell the operator you are experiencing the signs of a heart attack -- chest discomfort, shortness of breath and nausea. EMS employees arrive and help you into an ambulance, bound for the best, nearest emergency department, you think, until you overhear on the radio that it is closed to ambulance traffic.
Now, new research shows that said closure could have a significant impact on your health outcome. It suggests that where ambulances take heart attack sufferers has a measurable impact on whether they live or die.
The report, out today in the Journal of the American Medical Association, is among the first to determine whether diversion of ambulance traffic by the nearest emergency department is linked with an increased risk of death.
Diversion occurs when emergency departments stop accepting ambulance traffic, often because of overcrowding or a lack of beds. It is a widespread problem: according to the American Hospital Association, almost a quarter of all U.S. hospitals went on diversion in 2010.
To better understand its impact, the authors of the new study combed through the records of nearly 14,000 Medicare patients in four California counties. They found that when hospitals were not on diversion -- i.e. open to ambulance traffic -- acute myocardial infarction (AMI) sufferers had a mortality rate of 15 percent. But when hospitals were on diversion for 12 hours or more, that rate jumped to 18 percent.
"What that means is when the nearest emergency department is subject to long hours of diversion, there could be three deaths that were potentially avoidable if there had been no diversion," explained Yu-Chu Shen, Ph.D., of the Naval Postgraduate School and the study's lead author.
She added that 12 hours of diversion in 24-hour period was not uncommon. Approximately 25 percent of the daily hospital logs they looked at for this study indicated a diversion of that length or longer.
"The findings are not a surprise at all," said Dr. Jesse Pines, physician advisor with Urgent Matters, a group aimed at reducing emergency department crowding nationwide. "During these episodes, ambulances will have to bypass hospitals, and the main issue with AMI is that it's so time sensitive."
Pines said that a major reason why many hospitals have to go on diversion is what is known as "boarding" within the emergency department. When patients are kept in the emergency department for a long time, it results in fewer active beds that are open to incoming patients. This can lead to general overcrowding, overloaded staff and poorer quality care.
The problem is not just confined to the emergency department.
"If the hospital as a whole is already over capacity, you can't send any more people upstairs when they are ready to leave the ED [emergency department]," Shen told HuffPost. "It's not just an isolated problem."
She added that ambulance diversion also has potential implications for patients in nearby emergency departments, which have to absorb the extra ambulance traffic, adding to overcrowding and stretched resources there, too. She said measures as simple as changing the physical layout of the emergency department and taking simple steps to improve the coordination of "upstairs and downstairs," could go a long way in reducing diversion.
In 2009, Massachusetts became the first state to ban diversion outright. Studies have yet to determine whether the ban has improved the outcomes of patients experiencing time sensitive illnesses. But Pines says it's a step in the right direction.
"With [heart attacks], timing is key," he said. "Even delays on the order of 15 to 20 minutes during episodes of diversion can make a big difference."