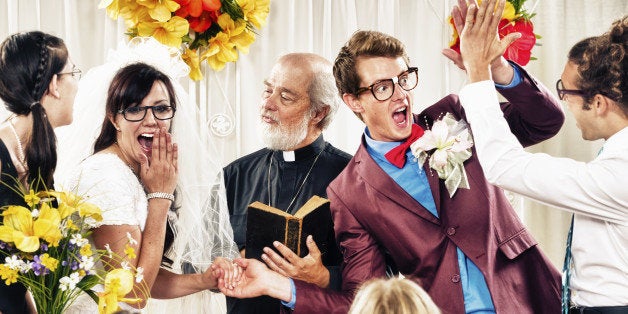 You've heard stories of celebrities flying their friends to exotic island vacations that are really for their secret destination wedding. While avoiding paparazzi is a great reason to have an "ambush wedding," there are equally great reasons for non-celebrities to surprise their friends.
Julie and Freddie's reason to have a surprise wedding is simple -- they did not want to deal with the stress of planning a big affair. Instead, Julie's parents hosted an "engagement party," which turned out to be a great affair as featured in our blog.
Ambush weddings or "Trojan weddings" as they are sometimes called, also offer the following benefits:
A lot of what takes up wedding planning time is finding at least 10 types of wedding vendors, and coordinating with them and your bridal party. By keeping the affair simple, you cut down on the number of search and coordination.
b. Element of surprise and fun
Surprises are always good. What better way to make your wedding memorable and ensure everyone is in good spirits?
c. Excuse to do away with some expected wedding traditions
Because it is not a "traditional" wedding, you have much more leeway on what wedding traditions you want to keep.
d. No-stress guest list
Don't want to agonize over who to invite, sending invitations, and RSVPs? Invite as many people who are in town, and have someone manage the RSVP. Better yet, have a buffet to have more flexibility.
Of course, a surprise wedding is not for everyone. If you have a very clear vision of your wedding and actually do enjoy the planning process, then this option is not for you. If you also like travel and do not want to deal with orchestrating a surprise event, then eloping still remains a popular option for an intimate and easy affair.