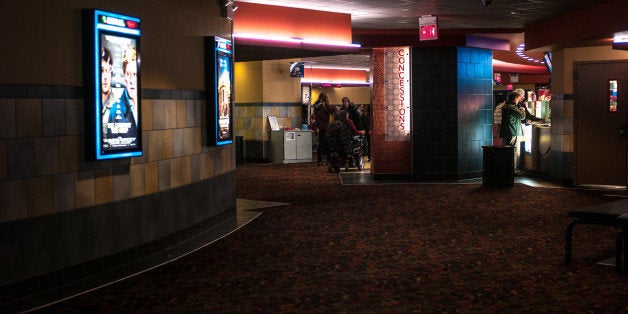 Call it Netflix, but for movie screenings.
AMC Theatres will begin testing a subscription service next month that will allow subscribers to attend one film per day without paying for a ticket, the company announced on Tuesday.
The service will cost up to $45 per month, and will only be available in Boston and Denver during the initial trial period. To create the service, AMC Theatres partnered with MoviePass, which helps create subscription packages for theaters. The new service will be called MoviePass Premium.
AMC Theatres operates 4,959 screens in the United States, which makes it the second-largest theater chain in the country. But the company has faced dwindling audiences in recent years, which has forced it to try new ways of getting people in seats.
"This pilot will provide more convenience for our guests, and responds to the preferences of many consumers for monthly subscriptions such as music and magazines, which we believe will increase the frequency of movie going," Christina Sternberg, AMC's senior vice president of corporate strategy and communications, said in a statement.
Like the music and print magazine industries, movie theaters are struggling. The share of Americans who attended at least one screening this year held steady at 77 percent, but the number of films the average person saw in theaters dropped to 7.3 from 7.7 last year, according to the Nielsen 2014 Moviegoing Report released last week.
Young people led the decline. Since 2007, moviegoing has become steadily less popular among people ages 12-24. This year, people in this age group saw an average of 7.1 movies in theaters, compared with 8.4 in 2013.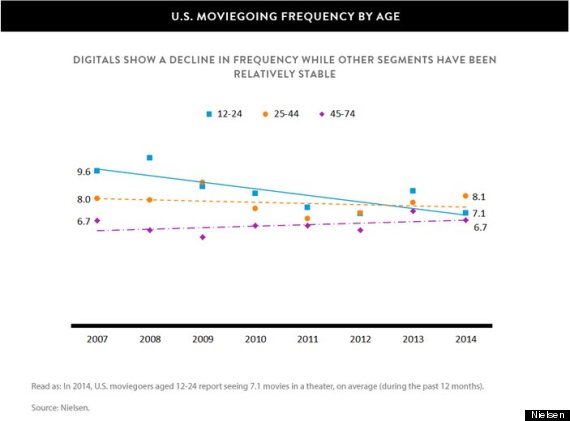 The number of people ages 12-24 attending movies has steadily fallen off since 2007.

AMC's main way of responding to that trend has been to increase prices. In the third quarter of this year, AMC jacked up its average ticket price to $9.48, a 5.3 percent spike, according to The New York Times.
At that price, film buffs who go see one movie a day for the entire month of January would spend $293.88. By comparison, a $45 monthly subscription sounds like an offer you can't refuse.
AMC gets paid full price every time someone uses their Movie Pass, the Times noted. The bet is that most people won't take full advantage of the deal. Indeed, if you wound up only seeing seven films a year, like the average American, you'd wind up shelling out $77 per movie.
Popular in the Community