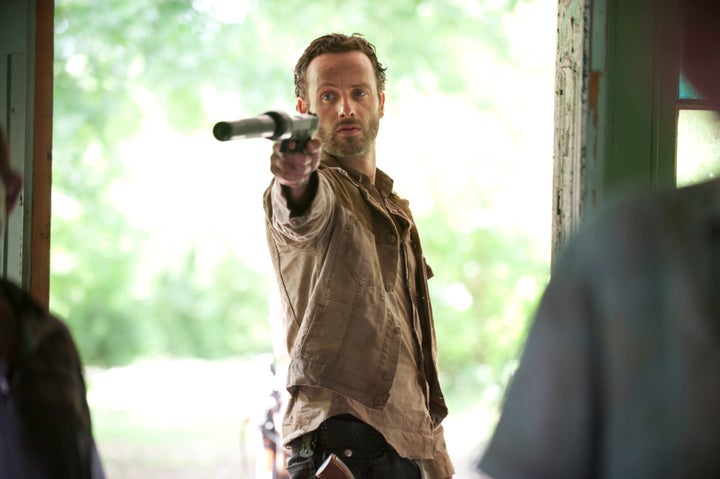 Fans of AMC's The Walking Dead will be running -- not walking -- to Orlando and Hollywood later this year. Especially after they learn that this Emmy Award-winning television series is going to be recreated as an elaborately themed maze for this year's Halloween Horror Nights events at both Universal Orlando Resort and Universal Studios Hollywood.
In an interview yesterday, John Murdy -- Creative Director at USH -- revealed that this deal (which -- FYI -- is the first time ever that a TV series has served as the inspiration for a HHN maze on both coasts) has been in the works for the better part of a year.
"Ever since The Walking Dead first premiered on AMC back on Halloween night in 2010, we've been huge fans of this television show," Murdy explained. " It had everything that we look for when it comes to Halloween Horror Nights. Great environments and iconic characters. Which is why we then reached to Greg Nicotero, the co-executive producer of The Walking Dead, to see if he'd be interested in working with us to reimagine this hit AMC series as a maze."
And because Nicotero is a longtime HHN fan (For years now, Greg's been making annual trips to the Hollywood version of this seasonal event just so he can then experience the thrills & chills that Murdy and the team at Universal Creative put together), he immediately sparked to the idea of turning this acclaimed television series into a physical space that people could actually wander through and experience.
"I'm like one of those truly hardcore fans. You know, those guys who fly to Martha's Vineyard just so they can then go swimming where they shot Jaws, or those people who walk through the cemetery from Night of the Living Dead ?," Nicotero said. "So when Universal came to us and said that they'd like to create a Halloween Horror Nights maze which would give fans of The Walking Dead the opportunity to place themselves inside the show and then experience scenarios that came straight from Season One and Season Two, I immediately said 'Yes.' "
Mind you, because Greg was already a Halloween Horror Nights fan, he insisted that the Walking Dead mazes that Universal would be building on both coasts be the ultimate HHN experiences. Which is why he and his team at KNB EFX Group are going all out to make these mazes feel as real and authentic as possible.
"We're providing Universal with the exact same molds and make-up pieces that we used on the show. So when you encounter Bicycle Girl and the Well Walker as you go through The Walking Dead maze, they're going to look exactly as they did on the television show," Nicotero continued. "Our goal here is to give fans of the show as authentic an experience as we possibly can."
And that means not only replicating some of the more memorable characters from the Walking Dead TV series, it also means recreating full settings from the show. Take -- for example -- the hospital from the pilot of this AMC show where Rick awoke from his coma.
"To my way of thinking, there's no better place to begin our story in this Walking Dead maze," Murdy stated. "We put you right in Rick's shoes. Imagine being in a coma and then waking up and realizing there are all these walking dead. And they're now trying to get you."
And it's not just the hospital that John and his team from Universal Creative will be recreating on both coasts. The highly detailed Walking Dead mazes which are currently under construction at both the Universal Orlando Resort as well as Universal Studios will also include memorable settings from Season One and Season Two of the show like the campsite and the swamp.
"Of course, the cool thing about doing something like the swamp as part of a Halloween Horror Nights maze is while you're looking at the recreation of this scene from the show and marveling at the great job that Universal did with replicating the exact look of the TV show, you're not noticing the other 10 walkers who are now coming up behind you," Nicotero laughed.
Yeah, the opening of this year's edition of Halloween Horrors Nights at the Universal Orlando Resort (which kicks off on September 21st) and Universal Studios Hollywood (whose dates have yet to be officially announced) looks to be a very big deal for Greg and the Walking Dead production team. Which is why -- even though they are still in the middle of shooting Season Three of this show (work on Episode 7 just wrapped) -- Nicotero and his crew are already making plans to travel to California and Florida so that they can then sample both version of this HHN maze.
"Hey, I'm the guy who went all the way to Georgetown so that I could then see in person the set of stairs that Father Karras threw himself down in The Exorcist, " Greg concluded. "If I went that far out of my way to experience something that was straight out of a horror film, there's just no way that I'm missing a Halloween Horror Nights maze which was based on the show that I actually work on."
Jim Hill is an award-winning entertainment writer who lives in New Boston, NH. Over the past 30 years, he has interviewed hundreds of veterans of the animation and themed entertainment industry and written extensively about the Walt Disney Company.
Jim is currently working on a behind-the-scene history of the development and construction of Disneyland. For his more immediate musings on movies, TV shows, books and theme parks, please check out his blog, jimhillmedia.com.

Follow Jim Hill on Twitter: www.twitter.com/jimhillmedia
Popular in the Community