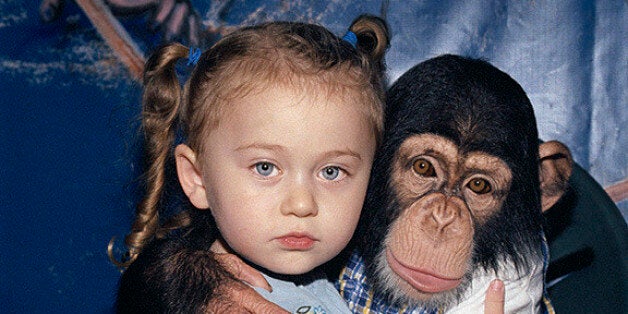 Twelve years ago, photographer Robin Schwartz was balancing raising her 3-year-old daughter Amelia and caring for her cancer-stricken mother.
After Schwartz's mother passed away from the disease, the artist struggled to come to terms with the painful loss and the conflicting feelings it left with her. "I was no longer a daughter, but had to be a responsible mother to Amelia," she told The Huffington Post in an email, adding, "I was so sad and a bit wacked out about my own mortality and having a little girl."
In time, however, this trying period in Schwartz's life would inspire a beautiful photography project and a special way to bond with her daughter. The mom, who is also an associate professor in photography at William Paterson University, has an upcoming book called Amelia and the Animals that showcases the series of stunning photographs she took of her daughter alongside various species of animals.
The project first began when Schwartz rescued a Chinese crested dog during her mother's battle with cancer. She photographed her daughter with the dog as a tribute to her own mom, and as a way to help Amelia remember their time together.
Since then, Schwartz has taken pictures of Amelia with all kinds of animals, including elephants, flamingos and baby tigers. She gains access to the animals through networking and bartering photographs.
As for Amelia, the now 15-year-old lives with her family in New Jersey and aspires to go into science.
For Schwartz, shooting Amelia and the Animals has come to mean more than she could've anticipated. "Being a working mother is such a juggling act and this project gave me a parameter to spend time with my daughter," she said, adding, "I am so grateful for this project, for the time with my daughter and how it bound us together sharing unique experiences working toward a common goal."
Amelia and the Animals hits store shelves on October 31 -- here's a sampling from the series: