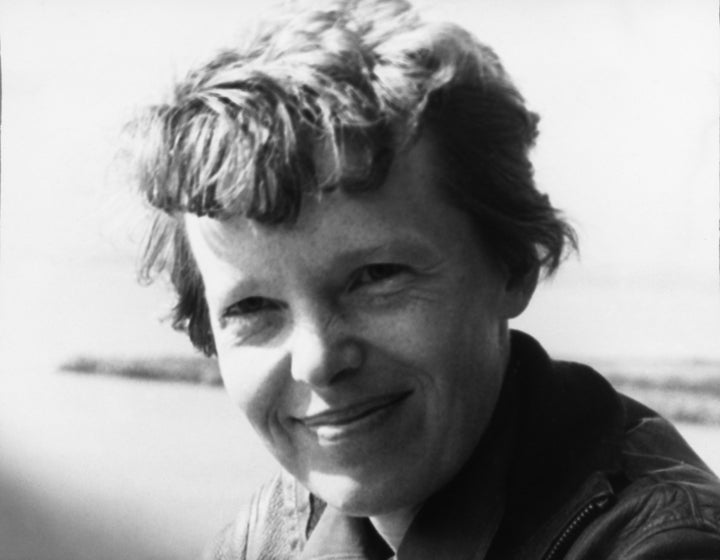 Amelia Earhart is dead but not forgotten. Just weeks shy of 40 when she disappeared eighty years ago this week, the revelation of a blurry photograph showing the back of a slender person with dark hair has her fate once again a current topic. But why do we still search for her after all these years?
The nation first came to know Amelia Earhart in 1928, the year after Charles Lindbergh's famous flight, when she flew across the Atlantic Ocean as a passenger with two male pilots and became the first woman to make the harrowing flight. Her long, lean frame and her short modern hair style drove the media wild with many calling her "Lady Lindy," quickly comparing her to the world's most famous pilot. But it wasn't the sudden fame, or even her 1932 solo flight across the Atlantic (making her only the second person to do so) that made her legendary when so many others have been forgotten.
Amelia Earhart's fame tells the story of the right person in the right place at the right time. The United States was in the midst of madness for everything aviation and adventurers like Lindbergh and Earhart (among others) sparked hope and imagination about the future. Technology was at the heart of the adventures, with new planes and ships fueling the way, and new radio shows and national magazines spreading their stories. Women, after gaining the vote in 1920, were optimistic about new career and life choices. Earhart was a well-respected aviation writer even before her 1928 flight and she took advantage of her sudden publicity to elevate her writing and speaking career and represent the new modern woman to wider audiences.
Amelia Earhart used her fame to advocate for aviation and other women, particularly women pilots ― and she is still revered among pilots for it. She mentored women students while formally tied with Purdue University and their aviation program, but also visited women in colleges, high schools and women's clubs around the nation urging them to go after their dreams. She worked with other women pilots to open up air racing, a popular and lucrative activity of the era, to women. She worked with other women pilots to create an organization, the Ninety-Nines ― which is still strong today ― just for women pilots so they could advocate and support women in aviation together. On her many stops across the country she inspired new generations as she sought out the young people, particularly girls, and invited them to talk with her. She wanted all women to have a chance to be a pilot, or an architect or doctor or whatever made that little spark of joy inside of them glow. She wanted everyone to be their best selves. And then she disappeared.
The continued interest in searches for Amelia Earhart is in part because we want her to have survived. Drowning as her plane, out of gas, sank into the sea is not the failed end we want for her. She was lost at the end of a golden era for adventure and aviation - a bright spot in the dark decade of the Great Depression. Where other heroes of the day were killed or, like Charles Lindbergh, had their reputations damaged by World War II, Earhart is still Earhart - brave, inspiring, adventuring pilot. If we could find her, prove by her very survival that she was as great as we think she was , the naysayers and doubters would be proven wrong and the perfect hero, Amelia Earhart, would be restored.
Calling all HuffPost superfans!
Sign up for membership to become a founding member and help shape HuffPost's next chapter
BEFORE YOU GO