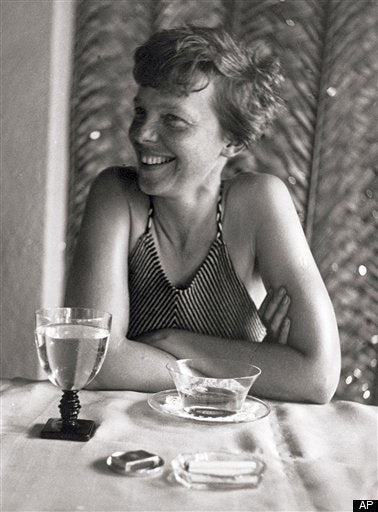 The Royal Hawaiian Hotel, a historic Waikiki property, is hosting an exhibition of rarely seen photographs of Amelia Earhart when she visited Hawaii and stayed at the "Pink Palace of the Pacific" during the 1930s, according to the Associated Press.
The collection of 65 black-and-white images show Earhart relaxing in a swimsuit, gazing out to the ocean and watching legendary surfer and Hawaii icon Duke Kahanamoku carve a pineapple for her. Several shots are from her two-week trip to Hawaii in 1934 (she famously flew solo back to California from that trip). There are also shots of her on her last trip to Hawaii in March 1937 -- several months before she vanished over the South Pacific during an attempt to be the first woman to fly around the world.
"They bring her to life," Lynn Krantz, the archivist at Matson Navigation Co. which found the images in their files last year, told the AP. "For instance, when you look at this one and you see her smile -- it's like whoa, joie de vivre," Krantz said.
The exhibit opened Saturday--Earhart's 113th birthday--and is scheduled to run through the end of the year.