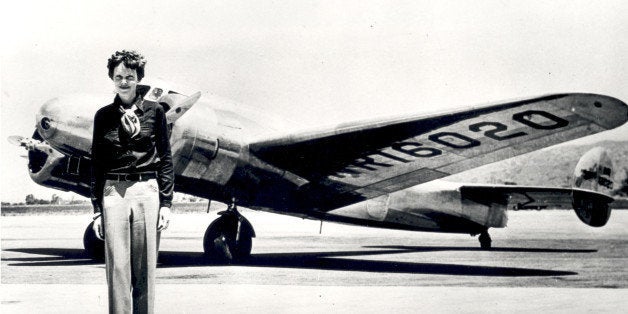 In Amelia Earhart's Last Photo Shoot by Nicole Swinford (published by the Paragon Agency), Swinford points to some possible answers as to why Earhart and Noonan lost communication and disappeared on their round-the-world flight in 1937.
Swinford bases her book on a never-before-seen-by-the-public film clip of Albert Bresnik, Earhart's personal photographer, taking pictures of the famous aviator. The clip, thought to have been filmed by the photographer's brother, is from a photo shoot prior to Earhart's circumnavigation of the globe.
Because it was never entirely clear when the previously published photos were taken -- before her first or second attempt at the challenge -- the clip is particularly helpful as it documents the time of the photo shoot -- it was before her very last flight.
Taking On Her Greatest Challenge
Earhart wanted to be the first person to fly around the world as near to the equator as possible, which of course, made it the longest route possible. By 1937 -- the year she planned this journey -- Earhart had set many records and received numerous awards, and there was great interest in anything she undertook.
Heightened interest in her work was helped along by her husband and tireless promoter George Putnam. Putnam hired Albert Bresnik, a celebrity photographer, to be Earhart's personal photographer. He was summoned prior to any major events in her life.
Publisher Obtains Film from Photographer's Nephew
Publisher Douglas Westfall at Paragon knew Bresnik's nephew, John Bresnik, and learned that John's father had enjoyed film photography as a hobby. Westfall eventually learned that John Bresnik had in his possession an amateur film of Amelia Earhart in 1937. John Bresnik recently gave the clip to Westfall. (Westfall plans to place it with an appropriate archive).
Based on what is revealed in the film, it's clear that the photos date to her second and final attempt in May of 1937. Earhart's original plan for the flight had included two other pilots who were going along to help with navigation and technical issues. Neither of these men are part of the last photo shoot. Navigator Fred Noonan and George Putnam are the only other individuals in the film other than Bresnik and Earhart.
The film also shows a strong and confident Amelia Earhart. She moves with athleticism and grace, radiating comfort and ease.
Other Information Outlined in Book
More significantly, author Nicole Swinford carefully documents some of the changes to Earhart's Lockheed Electra 10E that explain why she lost communication and why she has never been found.
Bresnik photographed Earhart while the plane was still in California. Earhart and Noonan then flew to Miami where the official flight was to begin. The photos taken in California show that the plane had been altered in certain ways by the time Earhart and Noonan departed in from Miami. Some of the changes would have interfered with Earhart and Noonan's ability to communicate.
Swinford points out three significant changes in the tools that could have helped Earhart stay in touch:
1) The trailing antenna was removed. If she had still had that antenna, she would have had a 2,000-mile radio range.
2) The 500 kcs crystal was removed. If it had remained on the airplane, Earhart and Noonan should have been able to communicate with the ships along the flight path.
3) The mast of the V-antenna was moved a few feet forward on the plane on the ground in California. This should have been helpful. Why was it moved back again?
After the airplane left Miami, Earhart and Noonan had only a 200-mile range; too little for what they required. At the time they lost communication, they were nearing the end of the trip and searching for a stopping point--the very tiny Howland Island in the middle of the Pacific.
Intermittent and sketchy transmissions from the plane were received by the Coast Guard ship Itasca sitting off Howland Island during the morning of 2 July. After 8:44 a.m. however, Earhart and Noonan were never heard from again. A massive sea and air search was terminated on 19 July 1937.
Earhart and Noonan were declared lost at sea.
Amelia Earhart's Last Photo Shoot contains some never-before-published photographs taken by Bresnik and is available from www.SpecialBooks.com
Calling all HuffPost superfans!
Sign up for membership to become a founding member and help shape HuffPost's next chapter