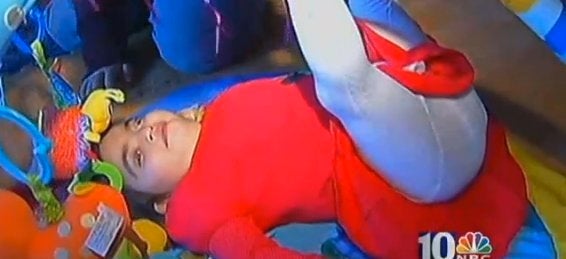 Three-year-old Amelia Rivera suffers from a rare genetic disorder called Wolf-Hirschhorn syndrome, and she needs a kidney transplant to survive.
But her mother, Chrissy, says a doctor at the Children's Hospital of Philadelphia (CHOP) refused to give her daughter the operation because Amelia was "mentally retarded."
Doctors have to weigh factors, such as life expectancy and health conditions, before placing anyone on organ waiting lists. But Rivera and her husband told NBC Philadelphia that they planned to find a donor for Amelia on their own and weren't requesting she be added to the waiting list.
However, according to Rivera, the doctor allegedly said he still would not perform the operation, even if the couple found their own donor.
So you mean to tell me that as a doctor, you are not recommending the transplant, and when her kidneys fail in six months to a year, you want me to let her die because she is mentally retarded? There is no other medical reason for her not to have this transplant other than she is MENTALLY RETARDED!
We hear you.

We feel and understand your frustration, but we are unable to comment publicly on individual cases...

The Children's Hospital of Philadelphia does not disqualify potential transplant candidates on the basis of intellectual abilities. We have transplanted many children with a wide range of disabilities, including physical and intellectual disabilities. We at CHOP are deeply committed to providing the best possible medical care to all children, including those with any form of disability.
Hirschhorn said that while the hospital was right not to place Amelia on a waiting list, he didn't see anything wrong with letting Amelia use a "living designated donor" who would understand that "Amelia's life would be prolonged, but not saved, by the transplant."
Yes, that is the reality: to think of the greater good. And yet, it also feels a bit like Social Darwinism, or even eugenics. Why does a team of doctors get to decide that Amelia is less deserving than someone else? Are doctors always right? History is full of mistakes in the medical profession.