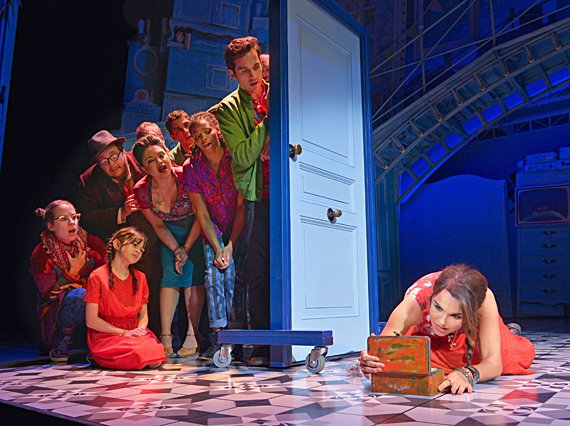 A pivotal discovery, with choral support: Amélie (Samantha Barks) finds the long-lost toy box that changes her life.
Fidelity is a trait to be commended, in situations. Those situations don't always include the process of transforming a story from one dramatic medium to another -- a movie or a novel into a play, for example. The original provides a launching point, but the adaptation has to stand on its own legs.
Berkeley Rep's cheerful new Amélie, a musical reworking of the French film that enchanted hearts around the world in 2001, carries fidelity to a level that undermines its strengths, which are many. The show is vibrant, color-filled and frequently charming, but its narrative needs loads of tweaks before it can approach the visceral impact of the movie.
The world premiere production flows briskly through an hour and 45 minutes of song, dance and dialogue that carry its painfully shy heroine from lonely childhood through a young adult's emergence and discovery of love.
Visually, the venture is gorgeous, employing sets (by David Zinn) that metamorphose from intimate spaces to wide open streets, plazas, railroad stations and the bistro where Amélie works. They abound with scenic elements that descend and rise, or glide on and off stage without ever distracting from the action, enhanced by wonderful lighting by Jane Cox and projections by Peter Nigrini that reinforce the moods and the sense of place. The technical wizardry matches virtually anything we'll see on Broadway.
And the score is serviceable, if not especially memorable, with graceful melodies as well as lyrics that carry the story forward, much as a narrator did in the movie. Daniel Messé composed the melodies and teamed with Nathan Tysen on the lyrics.
But the weaknesses stem mostly from the way the story unfolds, introducing but giving short shrift to the quirky characters who helped give the movie its humor, its bite and its poignancy. Playwright Craig Lucas (Prelude to a Kiss, Reckless, etc.) is credited with writing the adaptation, but the process had to include input from everyone on the production team, probably aided by the cast.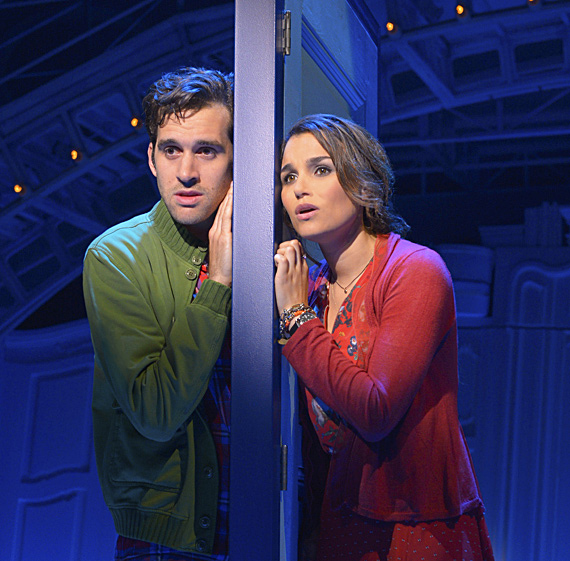 Just one thin wall away from love: Amélie (Barks) and Nino (Adam Chanler-Berat)
With British musical standout Samantha Barks (Éponine in the film Les Miserables) bringing a radiant dramatic and vocal presence to the title role, 9-year-old Savvy Crawford giving freshness and a full voice to Amélie in childhood, and Adam Chanler-Berat making an amiable target for Amélie's repressed emotions, the principals lift the show to its most engaging heights. And their characters are amply defined.
The same can't be said for most of the lesser roles, with the possible exception of Amélie's emotionally remote parents. The show's creators, including director Pam MacKinnon, seem to be betting that viewers will remember the screen characters and transfer that knowledge and affection to the figures they have sketched so thinly on stage. Having revisited the film a few days ago, albeit in home-screen scale, I could only wish that Lucas and company had developed them with more depth or eliminated them.
We get glimpses of Amélie's friends and acquaintances on the street and in the Cafe des Deux Moulins, where she works: the caustic greengrocer and the oddball assistant whom he insults and scorns; the cigarette-stand clerk and the creepy guy who ogles her; the elderly man whose long-lost box of toys inspires Amélie's quest to bring happiness to others; the old artist who paints nothing but incomplete copies of one Renoir masterpiece; a few others. They flicker past like chips in a brightly lighted kaleidoscope, but leave little to make us care.

Having dispensed with those quibbles, I would be remiss to say that the show's leads, its stagecraft and its tunefulness make it worth a look. The Amélie you see next week probably won't be a carbon copy of the one I saw a few days ago. New plays, especially musicals, are almost invariably works in progress, propelled by visions of Broadway's bright lights. If Amélie gets there, we can all say, "I saw it when . . .."
Amélie runs through Oct. 11 in Berkeley Repertory Theatre's Roda Theatre, 2015 Addison St., Berkeley. Tickets are $29-$97, from 510-647-2949 or berkeleyrep.org
REAL LIFE. REAL NEWS. REAL VOICES.
Help us tell more of the stories that matter from voices that too often remain unheard.