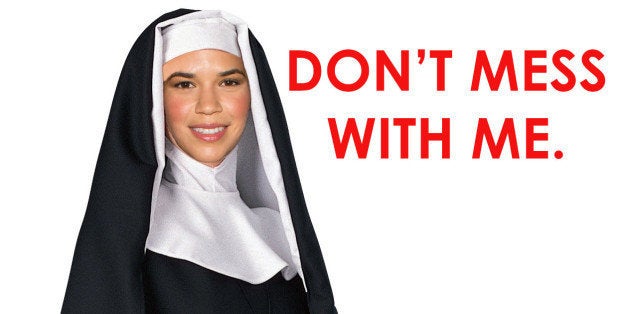 America Ferrera is coming back to TV, and "Ugly Betty" fans know why this is a big deal -- Ferrera can go from playing goofy to subtly sweet in an instant, and she brings a realness to characters that could otherwise be over-the-top.
CBS picked up drama "Damascus" this week, starring Ferrera as "a crusading nun who practices law on behalf of the least fortunate, and has her beliefs tested when her life collides with an elitist corporate lawyer. As the two set out to help those in need of justice, they come up against a secretive and powerful organization that is determined to destroy them."
It sounds delightfully insane, and we're hoping it'll be more "Father Dowling Mysteries" and less "Flying Nun," but either way, here's visual proof of why America Ferrera can pull it off:
Behind that sweet, infectious smile:


[via mindoodles]
She packs a punch:


[via jennhoney]
And she bounces back after taking punches herself:


[via digitaltexan]
She knows life isn't always that easy:


[via tayorps]
And she'll go to great lengths to make even mundane tasks more enjoyable:


[via]
She manages to make talking about pancakes endearing:


[via tayorps]
And she can say so much with her face without saying anything:


[via u-g-l-y-b-e-t-t-y]
Tell us: Are you excited to see America Ferrera back on TV every week? Can you see her as a vigilante nun?