The 32-year-old actress was presented with HRC's Ally for Equality Award during the ceremony, and in her acceptance speech broke down why it's important that people of color and in marginalized communities see themselves reflected in culture. 
"We know that representation matters. We know this. Not just in the media but in our schools, in our hospitals, in our boardrooms, in our halls of power ― we know that it makes all the difference to see ourselves reflected by culture, with dignity, with humor, with compassion," Ferrera said in a video of her speech posted Monday.
"It is how most of us learn what is possible for us," she continued. "What our place in the world is. And too often we have to spend so many years unlearning what culture has taught us about who we are or ought to be; but it doesn't have to be that way. We can change that. Every single one of us. We can leave the next generation with a better reflection of their innate worth and their inherent power simply by claiming and living in our own power."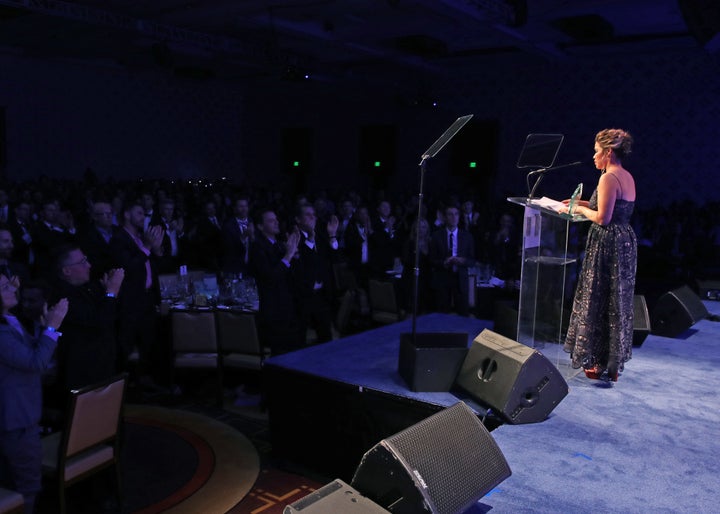 During her speech, Ferrera also explained how she's lacked role models in her own path to achieve her dreams. 
"I didn't grow up seeing a lot of examples of short, brown, chubby, poor daughters of immigrant parents grow up to be successful actresses and loud activists," she said. "I had to use my imagination most of the time."
The star then thanked the mentors and friends who encouraged her to use her voice, including her high school drama teacher who was in the audience. And she admitted that some days it is "really hard" to be vocal about issues she cares about but feels her own empowerment is connected to the empowerment of other marginalized groups, like the LGBTQ community. 
Watch Ferrera's full speech above. You can hear her comments on representation at the 10:00 mark. 
Calling all HuffPost superfans!
Sign up for membership to become a founding member and help shape HuffPost's next chapter
BEFORE YOU GO