Turns out the most indebted generation to date is the least equipped to manage their debt. Like we didn't know that already.
Essentially, over half of high school educated students in the United States could be considered financially illiterate. This coming from one of the most materialistic and consumerist countries in the world. Slow clap.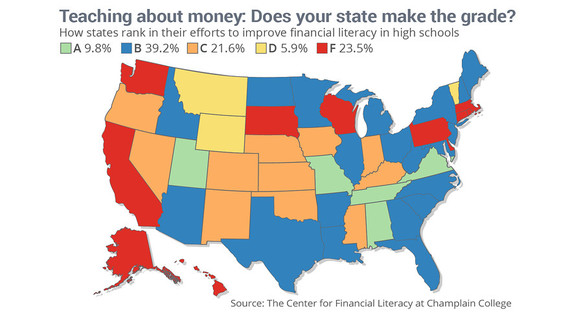 Source: MarketWatch
Don't worry - this lack of a proper financial education extends well beyond high school.
College students poised to take out an average of $30,000 in student loans during their four years at school will scarcely hear the words "financial education" while working towards their $80,000 degree. Federal law does require colleges to provide first-time borrowers with student loan counseling (through this largely ineffective Department of Education website), but most students won't discuss their finances again until their graduation exit interview.
Financial decisions made at the tender age of 17 tend to haunt borrowers well after graduation. About one third of white student loan borrowers and half of black and Hispanic borrowers all under the age of 50 wish they would have found another way to finance their education, according to a depressing survey from Pew Charitable Trusts.
And for the cherry on top: While college grads are wallowing in a pool of student debt regret, two- and four-year universities are profiting off of their students' financial misery.
Personal Finance 101 may be our only ally in the battle against student loan debt. Our government's failure to take full ownership of the crisis, or to provide any substantive relief, leaves two options: Take financial education into your own hands or live a life beholden to your bank account.
This post originally appeared on GenFKD.com in October 2015.