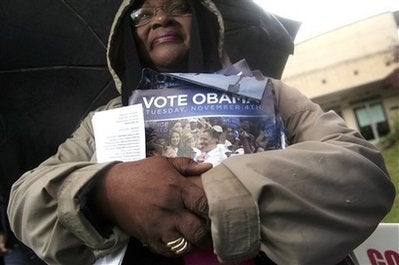 The "Bradley Effect" is no more. For all the talk of race being an issue in this election, it turns out that race was not an issue at all.
Half a century after "separate but equal" was shot down by the Supreme Court, the American people have shown that equality for all is not just a slogan.
Barack Obama wasn't supposed to be able to win in the "rust belt." He cleaned up from Ohio to Pennsylvania. He wasn't supposed to win with white voters. He did better with white voters than any Democratic candidate in recent history. He wasn't supposed to win the Latino vote. He was supposed to have trouble with Jewish voters. He carried both groups with ease. He wasn't supposed to win in the southern "red" states. He won Virginia and Florida and, as I write this, he stands to perhaps win more.
To be sure, we are still not done with the after effects of the American Civil War. Where most of America is headed in one direction, many of the states of the American south still appear headed in another, or, at the very least, resistant to change.
But this is not a day to talk about division. We are a great country. We fall down but we get up again. In our darkest moments, we always rise to the occasion. How can you not truly be proud of this nation tonight as we seek to rise above the tragedies of our past and to confront the problems of our present? It was, at times, an ugly campaign but it was also a historically astounding one. No matter whom you voted for, if you are an American, today is a day to unite and to prepare to face tomorrow together.
For my parent's generation, racism was an unavoidable fact of life. In my generation, we worked to avoid prejudice when we saw someone whose skin color was different from ours. The new generation no longer even sees a difference. What a terrific world tomorrow will bring.
I don't own rose-colored glasses. Obama's victory doesn't mean all is once again right with the world. There is much to be done. We have yet to elect a woman president. The fact that a candidate's religion or lack of religion is even discussed shows that we still have far to go when it comes to judging others. As African Americans achieve new heights, we still seem determined to limit the rights of another group, gay people. And, of course, Obama still needs to govern and show he can deliver on his message.
But for now we become one nation again. Now we unite and march forward and once more work on making the American Dream come true. Today we reject race as a deciding factor. Today we reject the politics of hate. Today we reject "Joe The Plumber" as the image of what "real" Americans are supposed to look like. For "real" Americans, and presidents, it turns out, can be almost anyone. Today is a great day for America. Make no mistake about it. Martin Luther King's dream is coming true. At last.
Calling all HuffPost superfans!
Sign up for membership to become a founding member and help shape HuffPost's next chapter