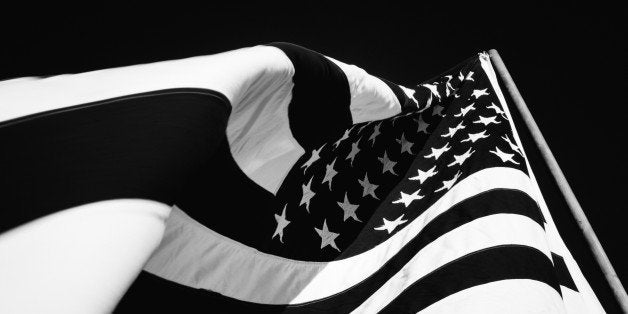 Over the past six years living abroad, I've watched the United States through the eyes of the world. And let me tell you, we do not have the best reputation out here. When we make the news, it is our war, our terror, our racism and our guns that do so. In late June of 2015, however, that image flickered. For the first time in a long time, America shown bright across news outlets and social media as a rare beacon of hope where freedom truly did reign. Gay marriage legal, Obamacare intact, and the president's speech in South Carolina. The laws, the legislation, the love.
In the last few weeks, those colors have faded once again into black and white. News and social media churn horror into reality. America regresses into its blackfaced truths: to a world where American Dreams exist exclusively on postcards; to a world with the resources for all, and the mentality for one; to a world where people continue to be judged by the color of their skin instead of content of character.
I judge, and this is my verdict: white men have it better. In America. In the world. Everywhere. I say this because I am one who has lived throughout the world. I have seen how the unchosen colors live and die. Children beg before they can walk. Girls prostitute before they can be women. Brown boys fall from rooftops before they can be free.
Throughout my travels, I've been many things: a teacher, a barman, a celebrity and a target to name a few. I've suffered injustices because of my skin color. I've been robbed, I've been hit, and I've been scammed all because the world knows I'm privileged. And I'm okay with that. Because my infrequent injustice cannot compare to their daily dose.
On a night train from Milan to Paris, a French scuba diver recently told me that immigration is a problem in France. As he sucked a packet of brown sugar, he admitted, it is not their fault. It's not anyones fault where they are born. It is simply luck. "You and I are white. They are black. But they did not decide this. There is space, there are resources, so we should welcome them."
Listening to the symphony of our mothers, skin, caste, and wealth are not something we control from the womb. We arrive into this cacophony with no notion of what we are or how we should be treated. Black or white, it matters little. We all cry, we all feed, we all poop. The cruelty of man educates the youth. And soon, the black and the white become entranced in two separate worlds.
When I meet a new traveler, they are often surprised by my demeanor. They see white; they hear a bit of Boston. Associations fly, "I thought you'd be more...American." Over the past six years, I've learned exactly what this sweeping statement means. These inquisitive travelers expect something from the news. They thought they had finally met their very own John Wayne troglodyte. And frankly, I disappoint. "It's the ones who stay in the country you've got to meet," I reassure them.
Only 38 percent of Americans own passports. Some of these non-passport holders are the privileged white (many passport holders are privileged white as well). They have the resources to do whatever they want, and what they want more than anything is to stay home, safely nestled within their comfort zone. Whether you own a passport or not, there is nothing wrong with that, unless your comfort zone encompasses xenophobia and racism. This is where white privilege becomes a threat. Because these same people teach our children, police our streets and write our laws. They are the lions of the U.S.D.A.-certified food chain. They don't know what it is to be hunted. They don't know what it is to hide in fear. They don't know what it is to be a minority at home or abroad.
Privileged men have ruled the United States since it beat within England's womb. When America was born, these same men dictated black to be exactly three-fifths a human being. Injustice to be found upon. A sturdy foundation with which to build. Hence, the constructs of 40 acres and a mule, Jim Crow, the War on Drugs, and a concrete penal system that puts one of every six black man behind bars (naacp.org).
"We got arrested for being black on a Friday night." (Ashtray, Don't Be A Menace to South Central While Drinking Your Juice in the Hood, 1996). So much truth in jest. We thought Rodney King was an outrage. Turns out, Rodney King was an outrage with luck. At least his beating was caught on tape; think of the thousands who have suffered the same without a camera in sight. Police brutality has not gotten worse; technology has just gotten better.
We, the people, see the truth through Twitter and Facebook feeds. We are outraged in our A.D.D. sort of way. We retweet and repost Michael Browns, Sreshbhai Patels, and Dylann Roofs because media has the power to change things. We begin to realize, as Americans of any color, that these are not singular tragedies, but a singular, indoctrinated epidemic that starts with the birth of a nation.
If privilege continues to be hoarded, more black lives will be taken. If more black lives are taken, then those lions reaping the food chain will look at Cecil and envy his fate. The process of change begins with us and ends with us. Through social media and grassroots movement we can unite our colors as we did on June 26, 2015. We can inspire American Dreams for generations to come before the riots begin, before the violence turns viral. We, the people, have the power to integrate privilege into the lives of all Americans black, brown, yellow, red, white and blue.
Related
Popular in the Community