Republican Presidential frontrunner Ben Carson ignited a firestorm when he has said he would not want to see a Muslim-American elected to the country's highest office. But few are paying attention as the Obama Administration is underwriting efforts in Myanmar that exclude its ethnic Muslims not only from running for office but from voting. That's right, you read correctly. The US government (read: American taxpayer) is paying money to strategically 'advise and support' Myanmar's Union Election Commission (UEC), which is disqualifying Muslim parliamentarians, striking Muslims from the ballot in next week's parliamentary elections, and even blocking their right to vote. Jim Crow laws have swept Myanmar and America's first black President is an enabler to it. My colleagues and I from Al Jazeera's Investigative Unit bore witness to this sorry process during recent visits to Myanmar. For instance, at a dilapidated government building in Rakhine State--the western coastal reaches of the country where targeted anti-Muslim violence, perpetrated by Buddhist extremists and state security forces, reached a fever pitch in 2012--we watched Muslim candidates for parliament attend hearings in late August to prove their worthiness to serve in government. Beetle-nut-chewing security goons stared down our cameramen as we waited in a downpour outside the Union Election Commissions' local Sittwe franchise. Inside, UEC judges had arranged to meet with a currently serving Union-level MP running for re-election and an aspiring new candidate. Both are Rohingya Muslim. We had been primed that a historic stripping of civil rights was likely to happen to this brave man and woman. As the only journalists present--alongside the human rights organization Fortify Rights--we felt obligated to bear witness, cameras in hand. As they emerged from the meeting, the verdicts were visible on their dignified but angry faces (dramatically captured in Al Jazeera's recent broadcast of "Genocide Agenda," based in part on this reporting). "They didn't look at the documents and said I have no right to submit them," said Khin Khin Lwin, a female Rohingya candidate told us while clutching her birth certificate and national identification card, establishing not only her birth in Myanmar, but her parents' as well. Stunned and in disbelief, U Shwe Maung, a prominent member of the ruling USDP party, came out next to describe how the UEC had just moments earlier stripped him of his right to run in the upcoming elections, and all future elections. In foreboding language, and with eyes darting between our cameras and nearly a dozen police officers that quietly assembled, he told Al Jazeera reporter Phil Rees "I can say this is the beginning to deny my rights to stay in Myanmar. Not only me--the full Rohingya community may be at risk, in danger now."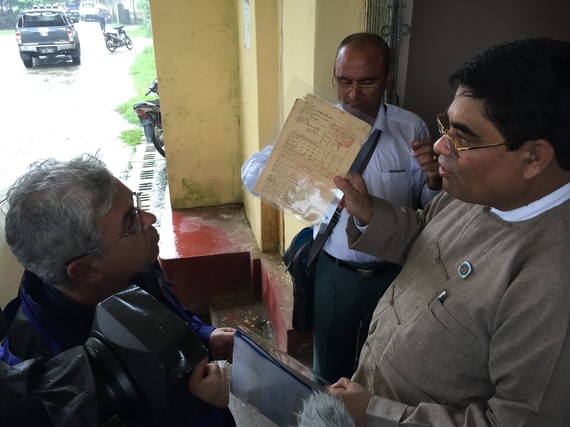 Just after those surreal moments we walked soaking wet back to our accommodations, discussing how the US Congress--the body that has authorized more than $200,000,000 in assistance to Myanmar since 2012--would have reacted upon seeing what we just had seen. Imagine the Federal Election Commission summoning Congressmen Keith Ellison (D-Minn.) or Andre Carson (D-Ind.), both Muslim-Americans, to a hearing where it is explained (without justification) that they can not continue being a Congressman--or ever vote again, period--much less run for any elected office. So it was with some surprise that I read what the Congress had heard about the state of Myanmar's forthcoming election. On October 21, 2015, Daniel Russel, Assistant Secretary of State for East Asia and Pacific Affairs, testified before the House Foreign Affairs Subcommittee on East Asian and Pacific Affairs. Russel himself had been in country roughly the same time as Al Jazeera, although not in Sittwe. Perhaps I was naïve to expect a measure of outrage, but Russel's prepared remarks were appallingly milquetoast. Russel took the "stuff happens" approach, noting for the record "we are disappointed and concerned with the disenfranchisement of approximately 750,000 Rohingya...we remain concerned over the disqualification of 75 parliamentary candidates, many for failing to meet citizenship and residency requirements, including all Rohingya candidates and most Muslims." His obligation to the facts apparently fulfilled, Russel went on to laud the Government of Burma for its "serious effort to improve the administration and transparency of the electoral process." And then this:
"With funding from the United States, the International Foundation for Electoral Systems (IFES) is providing technical assistance for the UEC on strategic planning, international standards, voter registration, advance voting, polling procedures, integrity measures, and the electoral legal framework." [My own emphasis added]
Three cheers to the American taxpayer on another excellent return on its government's investment. Russel did not elaborate exactly how much money Uncle Sam has provided IFES to help the UEC perfect its disqualification and disbarment of Muslim politicians (money is fungible, after all). And unsurprisingly the comprehensive IFES fact sheet on Myanmar elections from its website makes zero mention of the Myanmar government's stripping of Muslim rights ahead of the upcoming vote in its description of "Who is Eligible to Vote" and "Who is Not Eligible" (which they may want to fact check themselves after reading this). A senior Western diplomat told Al Jazeera "This is a strategically important country with a population of nearly 50 million Buddhists straddling the crossroads of China and India. Why should that relationship be thrown away over the mistreatment of maybe 1 million Muslims?" In other words, in the new Great Game, this one between the US and China, America is determined to 'beat the Reds' by helping racists win an election and claiming it as a victory for the West. How very 1955!
Not all from the West accept this blatantly immoral approach. American NGO worker Matthew Smith, Executive Director of Fortify Rights, which has closely monitored Myanmar's atrocity crimes against Rohingya Muslims to date, put it to me this way: "The Rohingya are being sacrificed by the international community on an altar of political reform. The election will be the cherry on top." According to Smith, since the Obama Administration provides IFES funding to help Myanmar carry out its elections, "the US now has a responsibility for the behavior of the (UEC) commission. It's not enough for US officials to simply voice their concerns. The US and other bilateral partners should consider reactions with teeth. If we've learned anything about the military and those in power in Myanmar, it's that they don't respond to soft stepping--they smile, nod, and promptly ignore it." What is the reality of how it will all play out following November 8th elections? Smith offered the following: "The narrative from the diplomatic community in Yangon that will undoubtedly emerge after the elections will go something like this: "Yes it is unfortunate that 800,000 Rohingya couldn't vote, but Myanmar is a country of 50 plus million, and generally the election was free and fair. Yes the US funded the [UEC] election commission, but we can't throw the baby out with the bathwater. They'll say we should remember that Myanmar has come a very long way. "
More chilling in the current political light is to contemplate how a Republican US President would react. Carson did not seem to suffer in the polls from his remarks and there is little hope Myanmar will change its current trajectory any time soon. That's why what is said by Republicans in this election will matter, almost as much as what's done by the present democratic Administration. Both needn't look any further than Myanmar to see how this ugly experiment is being played out courtesy the American taxpayer, and while Carson (and some, if not several, of those competing with him for the Republican nomination) might quietly approve, Obama and Clinton know better.
Popular in the Community