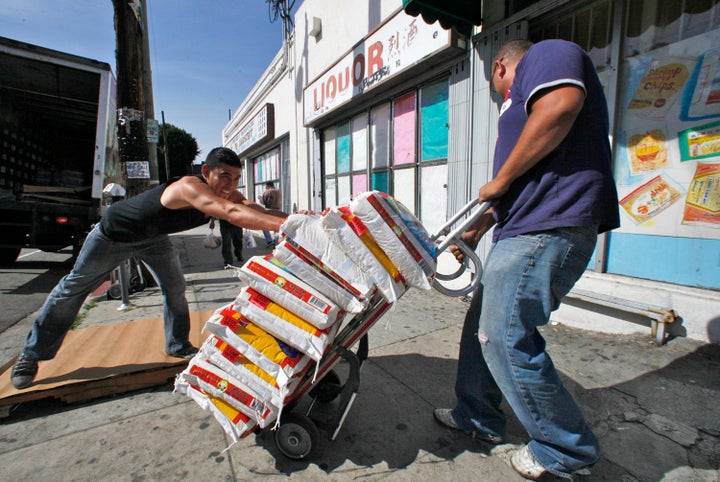 The American economy might be recovering, but the Americans themselves aren't feeling the satisfaction.
A new poll released today by Gallup, based upon the Gallup-Healthways Well-Being Index, found that 87.5 percent of workers were content with their jobs in April. And while that's up from the low of 86.9 percent in July and August of last year, it remains below the peak reached in February 2008, when 89.4 percent of workers said they themselves were satisfied with their job.
Perhaps not surprisingly, the nation's highest-income workers and senior citizen workers generally reported the highest levels of job satisfaction. On the other end, it was the nation's youngest and lowest-paid workers -- those who earned $36,000 or less per year -- that were least content with their work.
Gallup witnessed levels of job satisfaction among those surveyed fall most steeply among the nation's less-educated workers and Latinos. Among those without a high school diploma, those satisfied with their jobs dropped to 84 percent from 86.5 percent in 2008. Latino workers saw an even larger drop, as the percentage fell to 84.9 percent from 87.5 percent three years ago.
Black workers have been among the least content with their work, historically. But job satisfaction in the last three years has actually stood virtually unchanged, despite the Black unemployment rate sitting above 15 percent, according to the Bureau of Labor Statistics. Indeed, over the last three years, Black workers are the only group whose job satisfaction has increased, to 83 percent from 82.2 percent in 2008.
The racially-stratified breakdown in job satisfaction might have something to do with heavy concentration of Blacks and Latinos in lower-wage jobs. In the first quarter of 2011, the median weekly earning of white workers was $774, while the median weekly earnings of black workers was $604 and Latinos $549, respectively, according to the Bureau of Labor Statistics.
The Gallup-Healthways Well-Being Index measures wellbeing in the United States and the United Kingdom.
Gallup's tracking of job satisfaction since January 2008: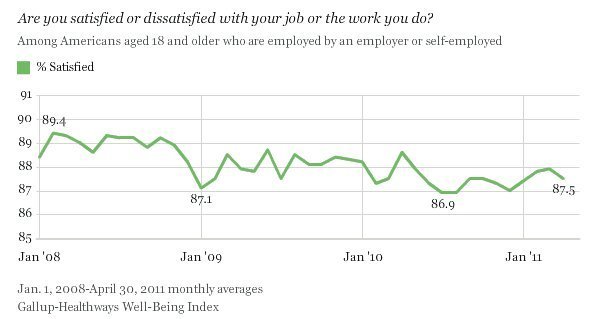 Calling all HuffPost superfans!
Sign up for membership to become a founding member and help shape HuffPost's next chapter