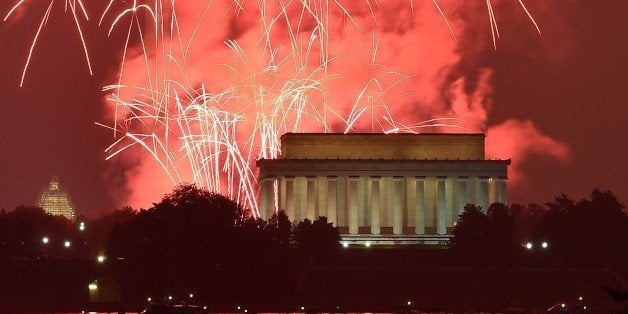 (Updates with quotes, color from Washington, D.C.)
NEW YORK, July 4 (Reuters) - Americans marched in star-spangled parades, ran relay races, gathered for fireworks shows and crowned a new world hot dog eating champion as they celebrated Independence Day in traditional style on Saturday.
Possible security threats, wildfires in the West and rainy weather on the East Coast apparently did little to dampen the spirits of celebrants decked out in red, white and blue from their headbands to their shoelaces.
Crowds at Boston's Old State House erupted in applause and cannons shot out tri-color confetti after the annual July Fourth reading of the Declaration of Independence.
Meskie Hyman, 11, exuded patriot pride in a star-spangled shirt and a hairband with two American flags that fluttered under cloudy skies in Maplewood, New Jersey.
"I love that it's a free country and we have the right to speak. It lets us see everyone's potential and find our heroes," she said.
The crowd in Washington, D.C. watched a parade of brass bands, law enforcement motorcycle units, high school drum majorettes, antique cars and police and military detachments.
The National Mall, an open area west of the Capitol and site of a fireworks display expected to draw hundreds of thousands, was soggy from steady rain that had stopped by the time the parade started. Among them was Kearston Andrews, 26, who had traveled with her family from near Gainesville, Florida, and said security concerns had not affected them.
The Department of Homeland Security and the Federal Bureau of Investigation issued an alert this week asking local authorities and the public to remain vigilant for possible threats following recent calls for violence by leaders of radical Islamist group Islamic State.
In New York City, the nation's biggest police force assigned about 7,000 officers and nearly all its counterterrorism personnel to handle security around Independence Day events.
Even after promising an increased presence at weekend events, Massachusetts State Police maintained a holiday spirit, tweeting with a colloquial Boston phrase early Saturday "Have a wicked safe 4th of July!"
In a stunning upset on Coney Island, 23-year-old newcomer Matt Stonie grabbed the famed mustard-colored champion's belt after gobbling 62 hot dogs in 10 minutes in the annual Nathan's International Hot Dog Eating Contest.
Stonie, of San Jose, California, ousted long-time champion Joey "Jaws" Chestnut, who still holds a world record of 69 franks eaten in 2013. Miki Sudo hung onto the women's title, downing 38 hotdogs in 10 minutes.
On the U.S. West Coast, which is already battling wildfires, communities in Washington state and Oregon restricted or banned fireworks for fear of more blazes. Cupertino, California, and Anchorage, Alaska's largest city, also canceled firework shows.
Nine people suffered minor injuries at Avon, Colorado's "Salute to the USA" fireworks show on Friday night after a malfunction sent some of the spectacular explosives into the crowd rather than into the sky, town manager Virginia Egger said in a statement.
Revelers on the beaches of North Carolina were warned by the National Park Service to use extra caution after seven shark attacks were recorded in the state by midday Thursday, surpassing the previous high of four in 2014 according to the International Shark Attack File. That won't deter some from the surf, said shark file curator George Burgess.
A celebration in Austin, Texas featured country music legend Willie Nelson at an all-day picnic replete with music and drinking. And in Oklahoma, the record to beat at the "Watermelon Seed Spittin' World Championship" in Pauls Valley, about 60 miles (100 km) southeast of Oklahoma City, was 66 feet, 11 inches (20.41 meters), set in 1989 by Jack Dietz of Chicago, organizers said. (Additional reporting by Jon Herskovitz in Austin, Eric M. Johnson in Seattle, Jackie Tempera in Boston, Ian Simpson in Washington and Barbara Goldberg in New York; Editing by Ruth Pitchford, Frances Kerry and W Simon)
Calling all HuffPost superfans!
Sign up for membership to become a founding member and help shape HuffPost's next chapter
BEFORE YOU GO
PHOTO GALLERY
America Celebrates July 4, 2015