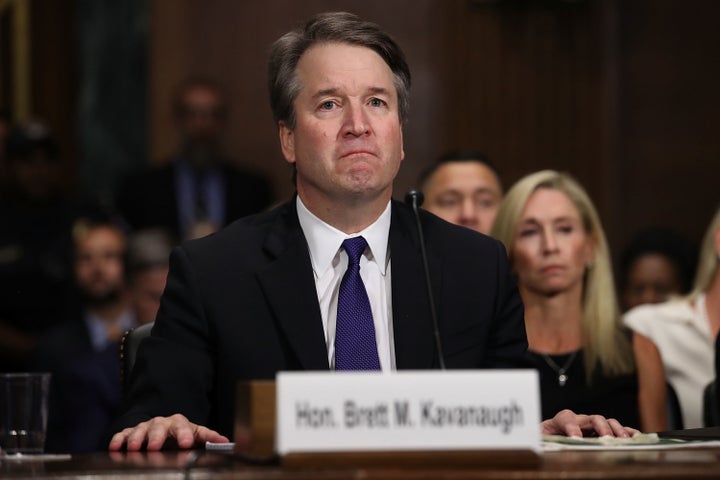 Now the editors are denouncing Republicans for not investigating the research psychologist's claim that Kavanaugh sexually assaulted her when they were teenagers and are calling for his nomination to be withdrawn.
"If Dr. Blasey's allegation is true, the assault and Judge Kavanaugh's denial of it mean that he should not be seated on the U.S. Supreme Court," the magazine's editors wrote on Thursday.
"But even if the credibility of the allegation has not been established beyond a reasonable doubt and even if further investigation is warranted to determine its validity or clear Judge Kavanaugh's name, we recognize that this nomination is no longer in the best interests of the country," they added.
Blasey is the first of three women to accuse the Supreme Court nominee of sexual misconduct.
America Magazine is a weekly magazine published by Jesuits, a Catholic religious order for men also known as the Society of Jesus.
At the time of its endorsement, America Magazine's editors hailed Kavanaugh as the champion who could be the Supreme Court's fifth vote to overturn the ruling of Roe v. Wade, which legalized abortion in all 50 states.
They described him as a constitutional "textualist who is suspicious of the kind of judicial innovation" that led to the ruling. The editors mused that his nomination would allow Catholics to transform the public's views on abortion, making it "an even less appealing choice." Kavanaugh, a Catholic, was attending a Jesuit-run private school at the time of the alleged assault.
But Blasey's testimony on Thursday apparently outweighed the magazine's fight against abortion.
Blasey's testimony "clearly demonstrated both the seriousness of her allegation of assault by Judge Brett M. Kavanaugh and the stakes of this question for the whole country," the editors wrote.
The magazine said that Kavanaugh's hearing was now more than a battle of policy issues: "The hearings and the committee's deliberations are now also a bellwether of the way the country treats women when their reports of harassment, assault and abuse threaten to derail the careers of powerful men."
The magazine also warned Republicans on the committee against voting for Kavanaugh without investigating all of the women's claims.
"If Senate Republicans proceed with his nomination, they will be prioritizing policy aims over a woman's report of an assault," they wrote.
"Even if one thinks that Dr. Blasey's allegations are not credible, demonstrating them not to be would require further investigations and testimony," the editors added.
"This would including calling additional witnesses and assessing further allegations against Judge Kavanaugh from other women, to which Republicans on the committee have been unwilling to commit and which would be divisive in any case."
Read America Magazine's full editorial here.
Popular in the Community