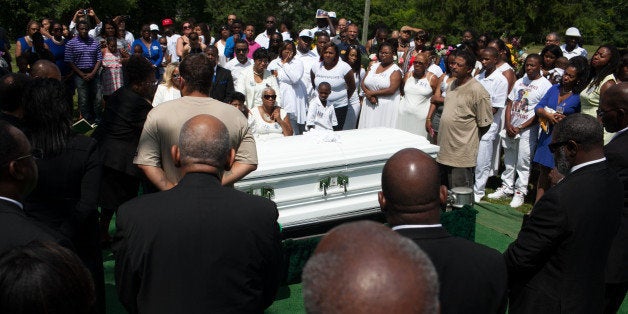 We always think it will be so hard to forgive someone who has done us wrong. It becomes second nature to build up walls. Pride, egotism, self-importance, and thinking we have been treated badly can stand in the way. However, when this happens, we end up holding ourselves prisoners of hurt. We end up reliving the situation over and over in our mind and over analyzing it. We try to find justification for what we are doing and allow our hearts to become hardened, making room for hate. We end up losing.
Yet, can we forgive ourselves and be forgiven for the police brutality and a justice department that permitted bail to be set at $5,000 for a minor traffic violation that led to the senseless death of a young black woman, Sarah Bland -- who died nearly a year to the day after Eric Garner was killed after being placed in a police chokehold? And can we forgive and be forgiven for the death of 18-year-old Michael Brown, who was fatally shot by a police officer last August in Ferguson, Mo., and 12-year-old Tamir Rice, who was killed by Cleveland police in November, and Freddie Gray, whose death from a severe spinal injury after his arrest set off riots in Baltimore?
'Forgive, and you will be forgiven.' We as a nation have relied on the magnanimity and forgiveness of black communities in America throughout history and especially recently in Charleston to move forward in hope for a better America.
So should we forget the 5:2 and embrace a diet of forgiveness to shed the weight of anger and rage we have been lumbered with for years? Nourishing our minds and bodies with a diet of forgiveness can release the guilt and hate that has taken a stronghold on our society. The same way our heart rate quickens as a physiological reaction to a harmful event or perceived fear, we unconsciously hold onto hatred as a way to protect ourselves.

Part of the problem of never letting go of these feelings of hurt is the body's need to feed on these toxic emotions as a way to emotionally cope. Shame is isolating and restricting. When hate is nurtured in our bodies for a long time, it stays stored in our body similar to a muscle memory.
Forgiveness will completely change our outlook on life and transform resentment into acceptance. Think about someone who hurt you or someone you love or loved but haven't spoken to for a long time due to a disagreement. Now is the time to rethink and re-evaluate what happened. Can you forgive them as well as yourself so that you don't have to carry the burden of hate every day?

Asking the black community for forgiveness can now only come through a revamping of an inconsistent police force and a reexamination of an unjust justice system that has become so dysfunctional that it has failed so many Americans. The people and communities who have been senselessly hurt by this may not immediately forgive our nation. Americans need to prove that they don't allow or forgive racism. This will help us to heal and make us whole again.
Recipe for Forgiveness
1 Cup of Love
11/2 Cups of Self-raising Awareness
3 Tbs of Forgiveness
A Sprinkling of Compassion
Salt: Not to be rubbed in the wound
Finally, add all the "Thyme" you need

Mix them all together and keep them in your heart forever.
Calling all HuffPost superfans!
Sign up for membership to become a founding member and help shape HuffPost's next chapter