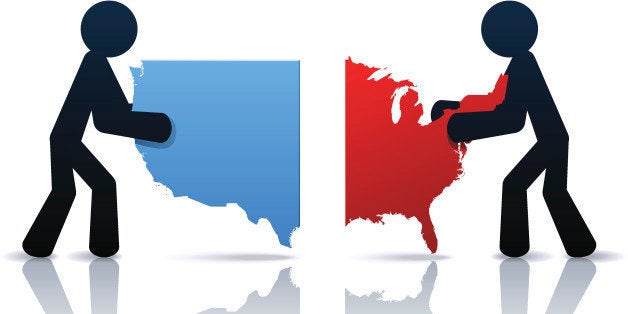 An apparent jump in polarization may be due to a change in poll methodology. Americans are (still) more likely to blame Republicans for the shutdown than President Obama. And we get some pushback on pushing undecideds. This is HuffPollster for Thursday, October 3, 2013.
MORE POLARIZATION? OR JUST A DIFFERENT METHOD? - The 2012 American National Study, the ongoing survey that political scientists have depended on for more than sixty years, found 3 percentage point increase between 2008 and 2012 in the number of Americans who call themselves "liberals" or "conservatives." Political scientists Lori Bougher and Markus Prior: "The new numbers appear to fit a common storyline: Disappointed by President Obama's unfulfilled promise of bipartisanship, Americans have retreated into their partisan corners and are now more bitterly divided than ever before. But it's the wrong story. And the reason involves an ongoing controversy in the polling community: whether online surveys are effective replacements for in-person and telephone surveys." [WaPost]
Mode or sample effect? - Bougher and Prior argue that an ANES shift to an online methodology (using a panelists recruited via traditional probability sampling, not an "opt-in" sample) explains all or most of the shift: "Why would the two surveys produce such different findings? One possibility is that answering survey questions alone on a computer screen at your preferred pace may lead to different answers than responding verbally to questions posed by an interviewer in your home. A second possibility is that because the two surveys' samples were drawn in different ways and had vastly different response rates (38 percent for the face-to-face survey and 2 percent for Internet survey, according to preliminary calculations by the ANES), the two samples differed in their political attitudes.
GOP TAKES BRUNT OF SHUTDOWN BLAME - Sarah Dutton, Jennifer De Pinto, Anthony Salvanto and Fred Backus: "On day three of the partial government shutdown, a new CBS News poll reveals that a large majority of Americans disapprove of the shutdown and more are blaming Republicans than President Obama and the Democrats for it. Fully 72 percent of Americans disapprove of shutting down the federal government over differences on the Affordable Care Act; just 25 percent approve of this action….Republicans in Congress receive more of the blame for the shutdown: 44 percent of Americans blame them, while 35 percent put more blame on President Obama and the Democrats in Congress. These views are virtually the same as they were last week before the shutdown, when Americans were asked who they would blame if a shutdown occurred." [CBS]
BILL DE BLASIO INCREASES LEAD IN NYC MAYORAL RACE - Quinnipiac: "Public Advocate Bill de Blasio's landslide is picking up speed in the New York City mayoral race and threatens to bury Republican Joseph Lhota 71 - 21 percent among likely voters, according to a Quinnipiac University poll released today. Independence Party candidate Adolfo Carrion has 2 percent….By a 69 - 19 percent margin, New York City voters have a favorable opinion of de Blasio. Lhota has a negative 26 - 36 percent favorability, with 33 percent who haven't heard enough about him to form an opinion. For Carrion, 73 percent don't know enough to form an opinion." [Quinnipiac]
WHY 'PUSH' UNDECIDEDS: PART II - Yesterday's HuffPollster discussed a new poll from the Texas Lyceum that found 50 percent undecided in the likely Texas gubernatorial match-up between Republican Greg Abbott and Democrat Wendy Davis. The huge undecided owed in part to the text of the vote preference question, which prompted respondents to say so if they "haven't thought enough about it to have a preference[HuffPollster, Lyceum]
Joshua Blank Responds - Via email we received this response from Joshua Blank, Chief Research Assistant for the Texas Lyceum Poll and Manager of Polling and Research of the Texas Politics Project at UT Austin. "While I understand the criticism, I think that it is misguided if one is trying to be intellectually honest with what we're trying to do here: make valid inferences about the population's preferences At this stage in the process (1 year and 1 month from a hypothetical general election in which one of the candidate's had not yet even announced), the notion that underlying preferences exist is dubious at best. People who say they haven't formed an opinion are by and large telling the truth. According to the June 2013 University of Texas/Texas Tribune Poll, less than 50% of registered voters had formed an opinion on Greg Abbott, while according to a July 2013 PPP Poll (and we obviously take this with a grain of salt), 32% had no opinion of Davis (and this was at the height of her new found celebrity). We could have forced respondents to choose, but that results would have been the number overwhelmingly reported in the many press accounts that this particular item garnered. I'm quite comfortable arguing that the truth is closer to the 50% undecided result than I would be pushing a fabricated result creating, instead of measuring, opinion given the considerations outlined above." Blank's comments here are his own and do not represent the views of the Texas Lyceum.
HUFFPOLLSTER VIA EMAIL! - You can receive this daily update every weekday via email! Just enter your email address in the box on the upper right corner of this page, and click "sign up." That's all there is to it (and you can unsubscribe anytime).
THURSDAY'S 'OUTLIERS' - Links to more news at the intersection of polling, politics and political data:
-PPP (D) finds Floridians divided on Marco Rubio. [PPP]
-The Emerson College Polling Society releases results on the Virginia gubernatorial race. [ECPS]
-Greenberg & Carville (D) report on focus groups probing the Republicans base. [Democracy Corps]
-Most Americans think the GOP's top priority is causing problems for the president. [National Journal]
University of Pennsylvania researchers use Facebook updates by 75,000 volunteers to find "an entirely different way to analyze human personality." [Business Insider via@MethodsMaven]
REAL LIFE. REAL NEWS. REAL VOICES.
Help us tell more of the stories that matter from voices that too often remain unheard.