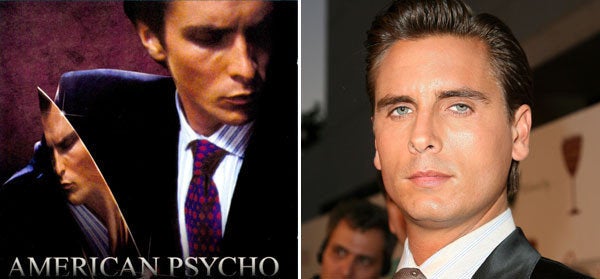 As soon as we heard that Lionsgate was looking to remake "American Psycho" -- a film made only 11 years ago -- we immediately thought why? And too soon!
But then we thought what a perfect opportunity for Scott Disick to play the character he's been dressing as for the last decade.
It turns out we weren't the only ones to have that brilliant thought -- Kourtney Kardashian's baby daddy totally wants in on it. A few hours after the annoucement of the remake, 28-year-old Disick tweeted:
"Just heard there doing a remake of American Psycho! best news i have ever heard! i hope they call me!
"I have warned Lionsgate that I will not approve a new version of 'American Psycho' unless it stars SCOTT DISICK or MILES FISHER," and he quickly added, "I am waiting for Scott Disick to ask: 'Who in the hell is Bret Easton Ellis?"
Oh Bret, you are too funny! But seriously, we doubt you have any say in the remake since you had no say in the film's awful sequel, "American Psycho 2" staring Mila Kunis before Hollywood loved her.
In 2001, Ellis told the press, "I've sold the rights [to the book], but I really don't know how they ended up with all of these rights. Basically, the book really kind of survives. I'm the kind of writer that sees books and movies as two totally different animals. So far, none of these movies has blotted out the book for the reader."
"Not going to happen, I know just who u r!"
The remake is still in early development but is said to explore how the wealthy, immaculately -groomed, homicidal character brought to life by Chrisian Bale would "fare in modern day Gotham."
We are guessing the studio is trying to capitalize on the public's general distaste (or disgust) with Wall Street by offering up a story with a villainous investment banker -- and is there a banker more evil than Patrick Bateman?
If the studio decides to go through with the unnecessary remake, we hope Disick is seriously considered for the role, or at least cast as one of the guys in that scene about the business cards.
If you need anymore convincing as to why Disick would be the perfect Bateman 2.0, watch this video a fan created. (Probaby NSFW):
Popular in the Community