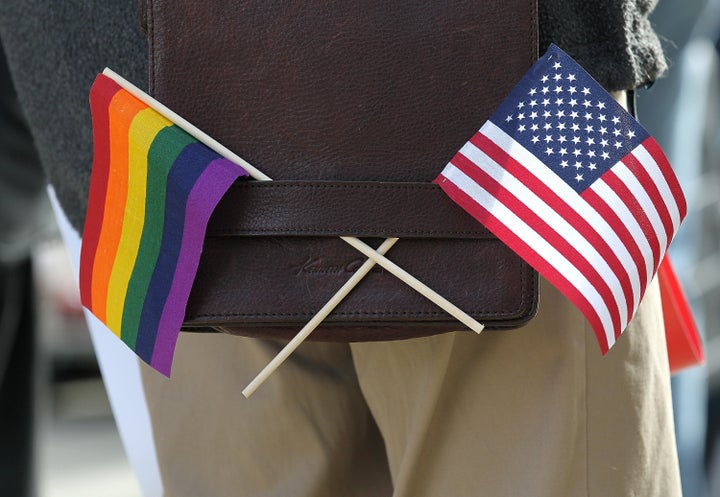 Today, we found out that Obama no longer thinks the federal government should ban gay marriage. This is not likely a change in the man's personal views -- but it does indicate a huge change in the cultural climate of the U.S.
The flip flop of President Obama on the question of gay marriage has been in the news quite a bit lately. Way back when, in the time before he was a national sensation, Obama told the Windy City Times that he supported full and equal rights for gay couples. Then he ran for president on an anti-gay marriage platform -- repeating again and again that it was a state issue.
Today, he reverted back to his original position, fully endorsing the repeal of the Defense of Marriage Act. Those who knew Obama way back when (and I run into a number of these people in and around Chicago these days) have consistently felt that he personally supported gay marriage. He has many long standing relationships with LGBT people and is generally considered to be a social liberal -- his hopefulness about racial equality in the US did seemed to be in contrast with his position on gay rights.
I always assumed he thought being for equality would lose him votes -- another example of a moment when Obama didn't have the courage to stand up for what was right.
Obama is a pragmatist. That hasn't changed just because he has decided to come out in full support for the repeal of DOMA. He is treading carefully, this time making sure his statements doesn't mandate equal rights, but allow states to still choose whether to grant equality legislatively or abide by state court decisions demanding gay marriage. But the repeal of DOMA would significantly change the way federal systems approach same-sex couples, notably opening the door for same-sex partner sponsorship in immigration.
Obama's support for the repeal of DOMA, before the bill has even made it through Congress, likely proves that gay rights are no longer a taboo subject for most of the American electorate. Some number cruncher in the Democratic Party has done a rough calculation of dollars lost from LGBT donations and votes lost due to outward support for gay rights and found that our cash outweighs the election costs.
That wasn't the case in 2008.
If this staffer or team of staffers is correct (and we, for the sake of the future of this country, surely hope so), the U.S. has made huge strides on tolerance for LGBT equality -- a tolerance that is one step closer to acceptance and, eventually, protection and promotion.
So, today I am excited about Obama's decision to stand up for equality in America. But I am mostly celebrating America's decision to stand up for equality in America.
Popular in the Community