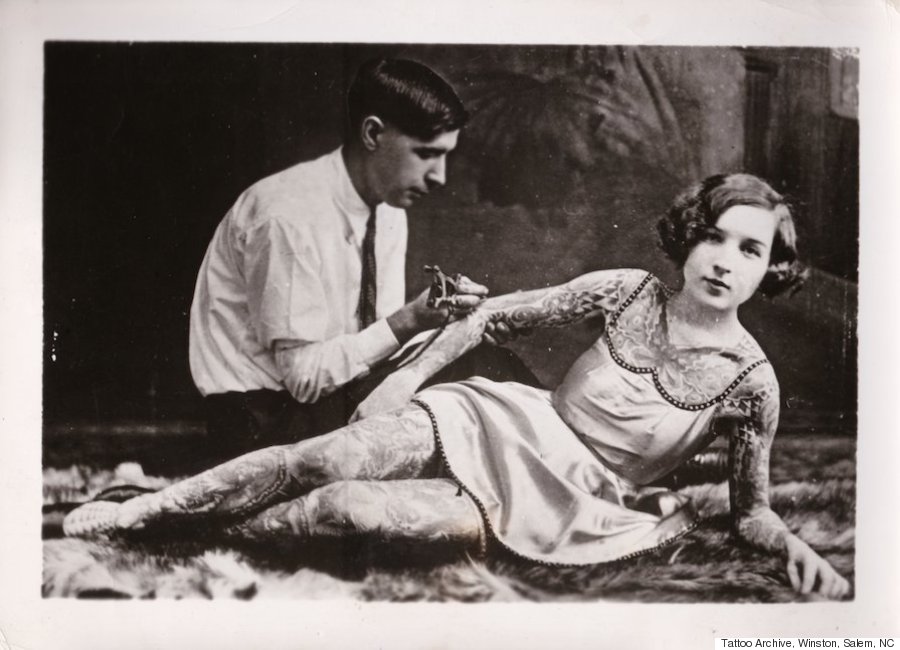 Of course, it hasn't always been this way. Tattoos were once taboo in the West, even though body art is an ancient practice elsewhere. A new book, 100 Years of Tattoos, explores this decorous transformation, following tattoo art as it turned from an act of rebellion to a widely practiced personal statement.
History tells us that the concept of self-branding was embraced fully in England in the 1860s after the Prince of Wales marked himself with a cross, partaking in a Medieval ritual. Meanwhile, the art of ink was in its fledging stages in America. Martin Hildebrandt, considered one of the country's first tattoo artists, opened a shop in New York City in 1870, making tattoos accessible for citizens who weren't able to travel overseas. But before Hildebrandt's business -- which involved training apprentices -- fully took off, most tattooed Americans were soldiers inking up for good luck, emblazoning themselves with reminders of their lives back home.
American tattoo art's initial function as a sort of patriotic act inspired many styles that would come to define it. Artist Paul Rogers, owner of a trailer that came to be known as the Iron Factory, got his start tattooing soldiers with eagles and other winged creatures. He'd go on to influence Ed Hardy and others, both with his technology and his aesthetic, which included American flags, plump hearts and buxom women. And, although the U.S. Navy disapproved of pinup tattoos for a period, they were still popular among its members. Those would-be soldiers with tattoos that were deemed inappropriate due to nudity would go so far as to add clothes to their preexisting inked ladies.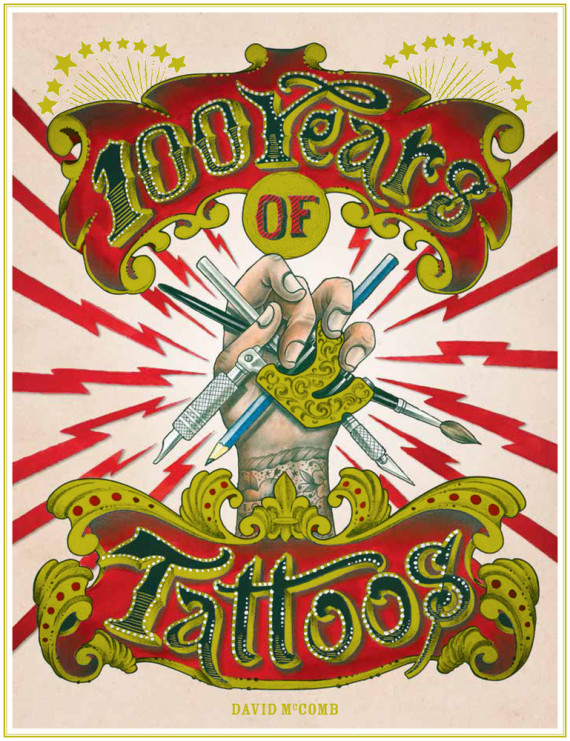 While wartime America was keen on tattoos, in less-wealthy urban districts and overseas the art was mostly confined to a small clientele. Like most aesthetic trends, tattooing didn't make its way to rural America quickly. Small-town introductions to body ink came via the circus, where those with body art were billed as bizarre attractions. In 100 Years of Tattoos, author David McComb digs into the fascinating underbelly of the industry. He discusses the gender divide among tattooed circus performers, and provides elucidating captions for images of women covered head-to-toe in body art. A picture of a totally inked woman, then employed as a sideshow act, depicts her posing proudly, covered in religious iconography and regal, historical portraits.
Women participated in the bubbling tattoo industry, which still remained beneath the surface of popular culture through the buttoned-up 1950s and early 60s. Notably, their inked art was at times an act of submission, especially among biker gangs. One spread in McComb's book pictures a girl showing off a growing sleeve of hearts, with "Property of Alan" scrawled above it. It wasn't until the 1970s, when what the author calls "the macho world of ink" was opened to women in new and empowering ways, that more feminine designs such as subtle shading and floral imagery became popular. Still, by 1979, female tattoo artists such as SuzAnne Fauser, whose depiction of a powerful pirate donning a stern expression and thick tresses can be seen below, struggled to make their mark in the industry.
McComb meticulously explores these corners of the industry, highlighting everything from the significance of tattooing within prisons to the impact of the Western-influenced ban Japan placed on tattoos at the end of the 19th century. See images from his book below.
Related
Popular in the Community